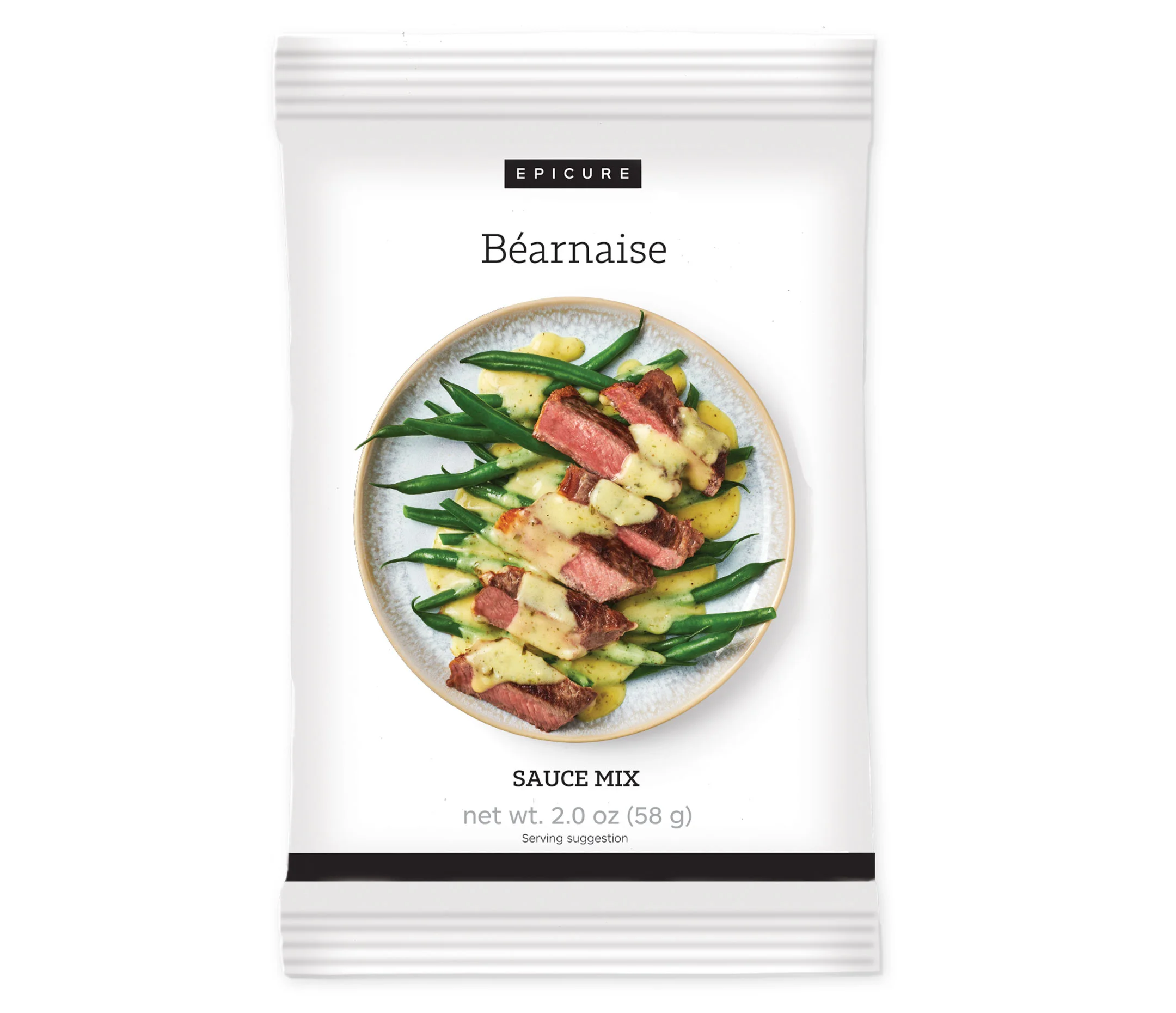 A classic French sauce that's notoriously hard to make at home – until now! With just one ingredient and 20 minutes, make buttery Béarnaise Sauce to drizzle on meat, fish, seafood, and veggies. Level-up date night, impress a crowd for brunch, or slather the sauce on burgers and sandwiches—it's delicious any way you want it!  
A finishing touch that makes for a memorable meal, Béarnaise Sauce goes way beyond eggs.  
Prep Tips: 
A great sauce for steak, fish, roasted chicken, lamb, pork, asparagus, potatoes, cauliflower, and broccoli. 
Serve with grilled salmon, shrimp, crab cakes, and baked oysters. 
Drizzle on ham, spinach, and cheese-stuffed crêpes. 
Use as pasta sauce. 
Use for eggs benedict, with a twist. 
Spread the chilled sauce on toasted bread for sandwiches/burgers. 
Enjoy with roasted potatoes or portobello mushrooms or cauliflower. 
All sources of maltodextrin used at Epicure are made with rice or tapioca. Epicure only uses gluten-free ingredients.
INGREDIENTS 
Buttermilk powder, corn starch, skim milk powder, organic apple cider vinegar powder (organic maltodextrin, organic apple cider vinegar), onion, inactive nutritional yeast, sea salt, citric acid, tarragon, black pepper, parsley, turmeric. 
Contains: Milk. 
We spend as much time thinking about everything we don't put in, as everything we do. See Our Good Food Promise and our Never-Ever List to see what you won't find in an Epicure ingredient list. 
Epicure is dedicated to sharing delicious meal solutions that use only real, whole ingredients you can trust, while never ever compromising on taste.
Epicure products are:
100% gluten free
Made in a nut-free facility (except coconut)
Free from corn syrup & hydrogenated fat
Free from artificial colors, sweeteners & preservatives
Sugar & sodium conscious
Made from ethically sourced ingredients
85% non-GMO Project verified
Learn more about our Good Food Mission and the Never-Ever List