3 Weeks of Easy Dinners Collection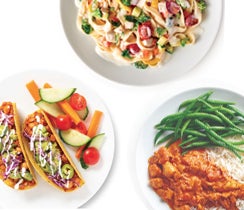 Don't know what's for dinner? You're not alone. Get 15 different Meal Solutions and the next 3 weeks of weekday meals are planned. Start with Week One, buy your groceries, and then just follow the recipe on each pack. Good Food. Real Fast.™ has never been easier!
Collection consists of: Beef Stroganoff Seasoning, Mac & Cheese Seasoning (2), Taco Seasoning, Thai Red Curry Seasoning, Veggie Burger Mix, Butter Chicken Seasoning, Cha Cha Chili Seasoning, Pulled Pork Seasoning, Sloppy Joe Seasoning, Sweet & Sour Stir-Fry Seasoning, Donair Seasoning, Korean BBQ Chicken & Ribs Sauce Mix, Pulled Chicken Seasoning, Thai Stir-Fry Seasoning.
Preview the 3 Weeks Easy Dinners Digital Meal Plan here.