Whole-wheat Banana Pancakes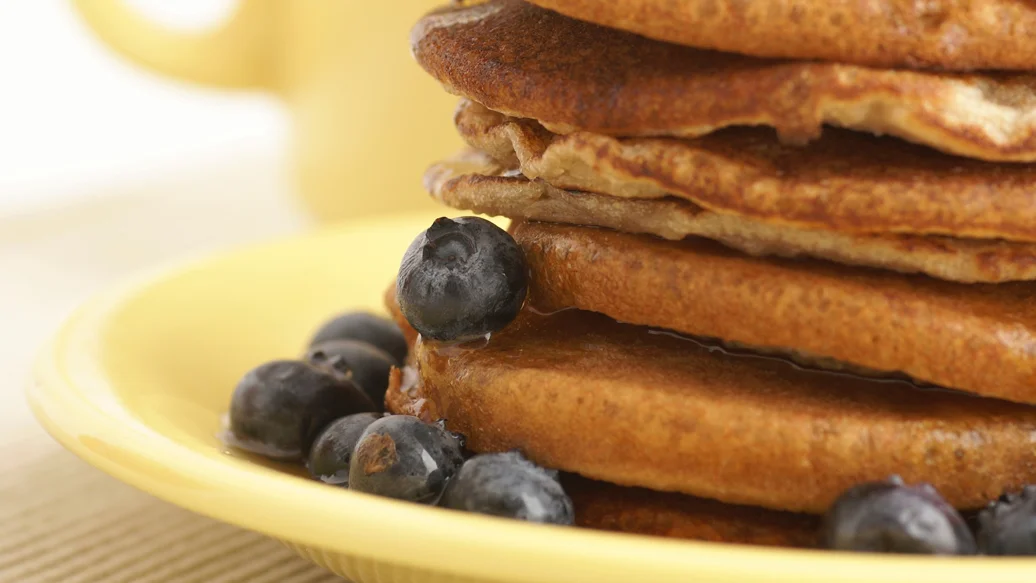 15 min
4 servings
$0.40/serving
The perfect weekend pancake: moist, fluffy, flavourful. Whole-wheat never tasted so good.
Ingredients
1⁄3 cup old-fashioned or quick oats
1 cup water
4 tsp brown sugar
4 tsp vegetable oil
1⁄3 cup whole-wheat flour
1⁄3 cup all-purpose flour
1 tsp baking powder
1 pinch baking soda
1 pinch salt
1⁄3 cup low-fat milk
3 tbsp low-fat plain yogurt
1 banana
1 egg
Preparation
Combine oats and water in a large, microwave safe bowl. Microwave on high for approximately 3 minutes, or until oats are creamy and tender. Stir in sugar and oil. Set aside to cool.
In another large mixing bowl, whisk together flours, baking powder, baking soda, salt and cinnamon. Set aside.
Add milk, yogurt, banana and egg to the cooled oat mixture and stir until blended.
Add dry ingredients to wet ingredients. Mix with swift strokes using a wooden spoon until just combined. Batter will be slightly lumpy.
Heat a frying pan over medium heat.
When hot, pour 1⁄4 cup pancake batter (per pancake) into pan. Cook until pancakes are covered with bubbles and edges are slightly browned.
Flip and cook other side until underside is golden brown. Repeat with remaining batter.
Serve immediately, drizzled with maple syrup, if desired.
Nutritional Information
Per serving: Calories 220, Fat 7 g (Saturated 1 g, Trans 0 g), Cholesterol 65 mg, Sodium 220 mg, Carbohydrate 34 g (Fibre 3 g, Sugars 8 g), Protein 7 g.