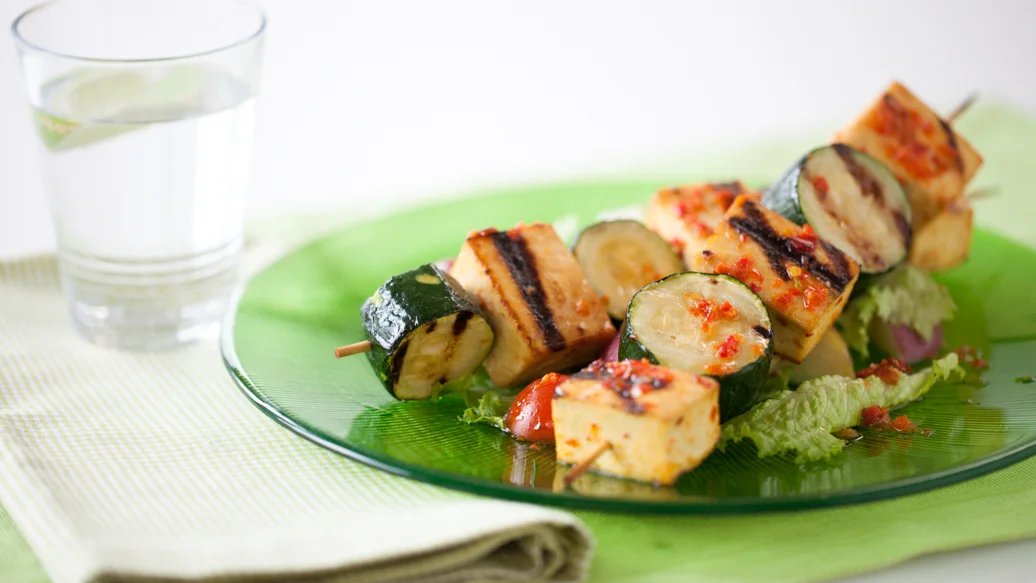 1 hr 20 min
4 servings
$1.80/serving
Ingredients
1⁄4 cup freshly squeezed orange juice
1⁄2 cup olive oil
1 pkg (14 oz/180 g) extra-firm tofu, cut into 12 pieces
2 medium zucchini, cut into chunky pieces
Herbed Garlic Sea Salt Blend, to taste
4 large or 8 small bamboo skewers, pre-soaked in water
Preparation
In a large bowl, using Piano Wire Whisk, whisk orange juice with Seasoning. Gradually whisk in oil. Add tofu, and gently stir to coat. Cover, and refrigerate for 1 hour to marinate.
Preheat oven to 425° F (220° C).
Remove tofu (reserve marinade). Alternately thread tofu and zucchini onto skewers.
Place kebabs on Sheet Pan lined with Sheet Pan Liner. Bake for 4–6 minutes.
Drizzle with remaining marinade, season with Sea Salt and Pepper, and serve.
Nutritional Information
Per serving: Calories 400, Fat 34 g (Saturated 4 g, Trans 0 g), Cholesterol 0 mg, Sodium 5 mg, Carbohydrate 14 g (Fibre 3 g, Sugars 7 g), Protein 12 g.
Tips
Double the recipe, and add the extras to leafy green salads or grainy salads, such as quinoa, wheat berry, or lentil.
Chef Tip: Be sure to oil tofu thoroughly so it doesn't stick. To get grill marks on your kebabs, use a grill pan.