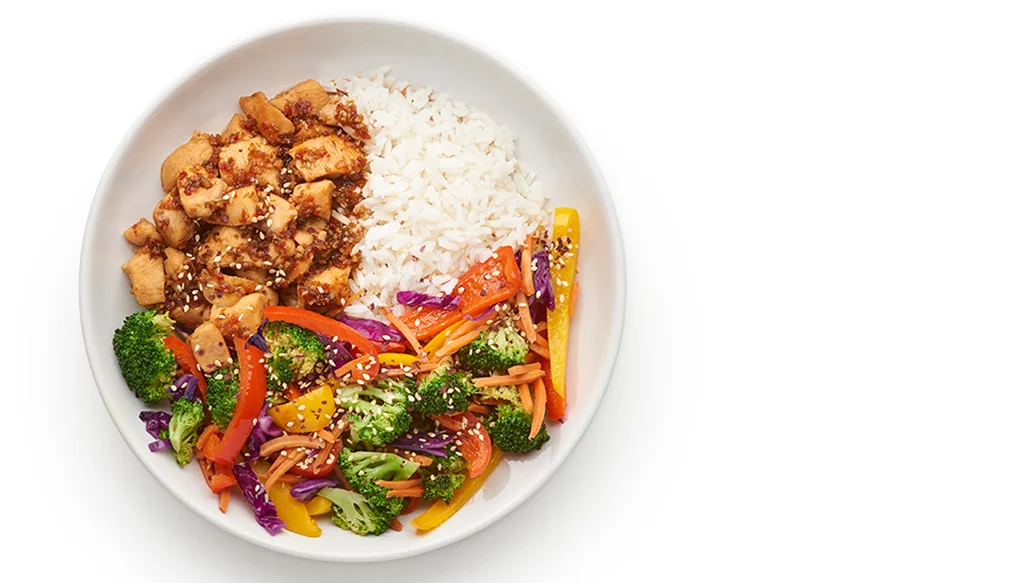 15 min
1 serving
$3.60/serving
Dine in tonight with our restaurant version of a warm Teriyaki rice bowl. It is perfectly balanced and will quickly become one of your go-to recipes.
Ingredients
1⁄4 cup teriyaki sauce
1 tsp oil
4 oz (110 g) chicken breast, chopped
1⁄2 cup shredded cabbage, steamed
1⁄2 cup broccoli, steamed
1⁄2 cup bell peppers, steamed
1⁄2 cup rice, prepared and heated
Sea Salt, to taste
Black Pepper, to taste
Preparation
Place 2 tbsp of teryaiki sauce, oil and chicken in a wok or frying pan over medium high heat. Cook for 3-4 minutes. Once cooked set aside.
Add veggies and remaining teriyaki sauce in wok and stir-fry 2-3 minutes
Place warm rice into a serving bowl.
Top with veggies and chicken.
Top with Salt and Pepper as desire
Nutritional Information
Per serving: Calories 370, Fat 9 g (Saturated 1.5 g, Trans 0 g), Cholesterol 65 mg, Sodium 690 mg, Carbohydrate 44 g (Fibre 4 g, Sugars 12 g), Protein 30 g.
Tips
Flavour rice with your favourite broth mix prior to cooking.