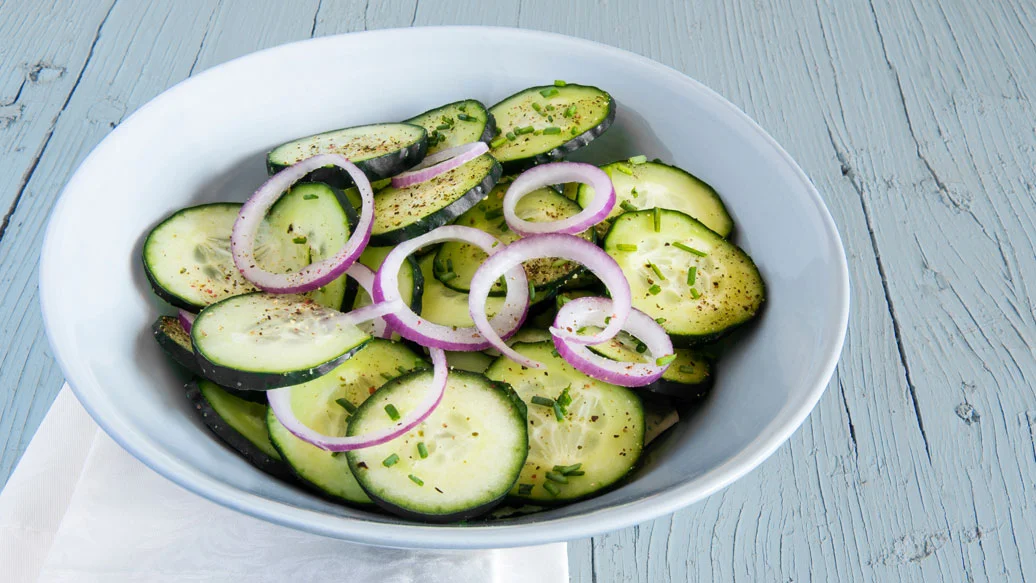 5 min
6 servings
$1.11/serving
Cool as a what?! Bursting with tang and herbs and a dash of sweetness, this salad is a perfect way to cool down on a hot summer day or add a zesty twist to any meal. This no-fuss recipe is a breeze to prepare, making it the perfect go-to option for busy days or impromptu get-togethers.  
Perfectly Balance Your Plate
Serve with 4 oz (113 g) lean protein and a baked potato. 
Ingredients
1⁄3 cup vinegar
3 tbsp oil
3 English cucumbers
1⁄2 small red onion
Preparation
In large bowl, whisk vinegar, oil, and dressing mix.  
Thinly slice cucumbers and onion. Place in bowl with dressing; toss to combine.  
If making ahead, refrigerate in a sealed container until ready to serve. 
Nutritional Information
Per serving: Calories 100, Fat 7 g (Saturated 1 g, Trans 3 g), Cholesterol 0 mg, Sodium 35 mg, Carbohydrate 7 g (Fibre 1 g, Sugars 3 g), Protein 1 g.
Tips
Use 4-in-1 Mandoline to make preparation a breeze. Slice your cucumbers and onion paper thin to get the perfect texture and consistency.
For an extra crispy cucumber crunch, thoroughly toss sliced cucumbers with 1 tsp salt and leave uncovered in the fridge for 1 hr to release excess water. Remove liquid from cucumbers before adding remaining ingredients.