Sylvie's Moroccan Wheat Bread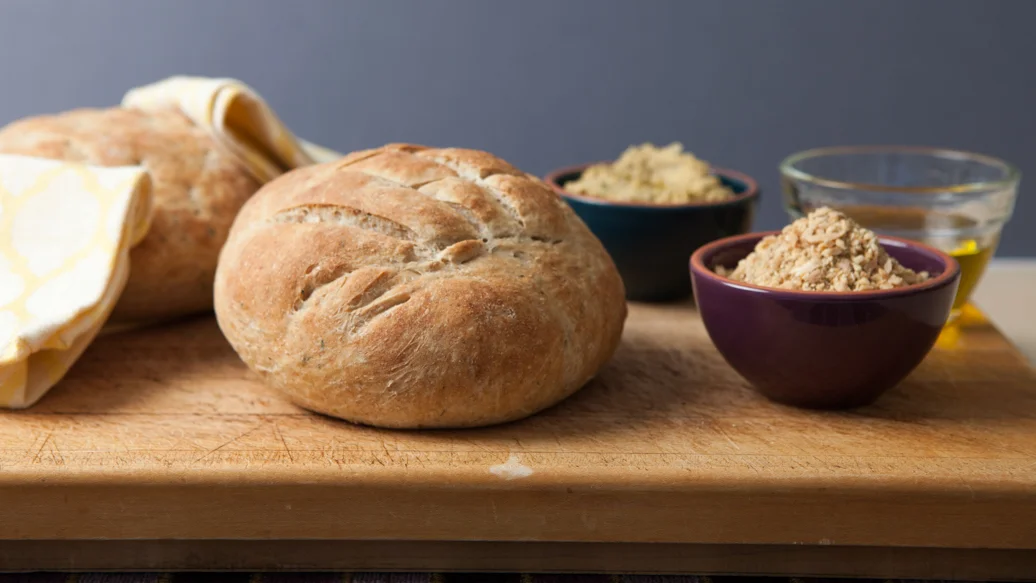 45 min
two 8"–9" round loaves (16 slices)
$0.25/serving
Also called khobz, this is traditionally shaped into flat, circular loaves. Allow 1 hour or more for rising time. Resting and Rising Time: 1 hour; Total Time: 2 hours
Ingredients
2 cups whole wheat flour
2 cups white flour
2 tbsp your favourite Epicure Dip Mix
2 tsp Sea Salt
1 tbsp active dry yeast
2 tbsp vegetable oil
1 - 2 tbsp honey
1 1⁄4 cups warm water
additional flour for kneading plus cornmeal, semolina, or oil for the pan
Preparation
Prepare two Sheet Pans lined with Sheet Pan Liners, and dust with a little cornmeal, semolina, or oil.
Mix the flours, Dip Mix, and Sea Salt in a bowl. Make a large well in the centre of the flour mixture and add the yeast.
Next, add the oil, honey, and water to the well, mixing to dissolve the yeast first, and then stirring the entire contents of the bowl to incorporate the water into the flour.
Turn the dough out onto a floured surface, and begin kneading the dough. If necessary, add flour or water in very small amounts to make the dough soft and pliable, but not sticky. Continue kneading for 10 minutes, or until the dough is smooth and elastic.
Divide the dough in half, and shape each portion into a smooth circular mound. Place onto the prepared Sheet Pans and cover with a clean towel. Allow to rest for 10 minutes.
After the dough has rested, use the palm of your hand to flatten the dough into circles about 1⁄4" thick. Cover with a towel, and leave to rise about one hour, or until the dough springs back when pressed lightly with a finger.
Meanwhile, preheat the oven to 425° F (220° C).
Score the top of the bread with a very sharp knife, or poke the dough with a fork in several places. Bake the bread for about 20 minutes – rotate the pans about halfway through the baking time – or until the loaves are richly coloured and sound hollow when tapped. Transfer the bread to a rack or towel-lined basket to cool.
Nutritional Information
Per serving: Calories 130, Fat 2 g (Saturated 0.2 g, Trans 0 g), Cholesterol 0 mg, Sodium 280 mg, Carbohydrate 25 g (Fibre 3 g, Sugars 1 g), Protein 4 g.