Sylvie's Lacy Parmesan Lollipops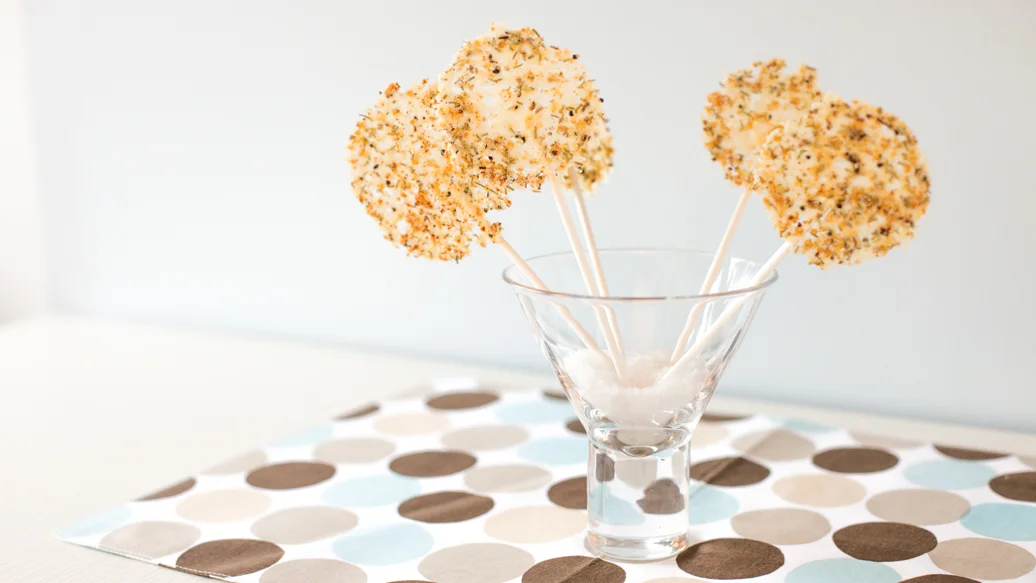 15 min
10 servings
$0.55/serving
Ingredients
1 cup finely grated Parmesan cheese
10 lollipop sticks
Preparation
Preheat oven to 425 °F (220 °C).
Line Sheet Pan with Sheet Pan Liner. In a bowl, mix Parmesan with Rosemary Garlic Seasoning.
To form lace, place a 7–9 cm (2.7–3.5") metal ring on Sheet Pan Liner. Evenly sprinkle cheese mixture inside ring to form a thin base layer. Carefully remove ring.
Lay a lollipop stick in centre of the cheese circle. Sprinkle more cheese over stick tip to keep stick when baked. Repeat with remaining cheese and sticks. Be sure to leave space between lollipops.
Bake until cheese is light golden and bubbly, about 5 minutes. Remove and let stand for 1 minute, then remove to a cooling rack. Lollipops can be made up to 6 hours before serving. Keep at room temperature.
Nutritional Information
Per serving: Calories 35, Fat 2.5 g (Saturated 1.5 g, Trans 0 g), Cholesterol 5 mg, Sodium 125 mg, Carbohydrate 1 g (Fibre 0 g, Sugars 0 g), Protein 3 g.
Tips
Sylvie's Tip: If you don't have a metal ring, use a round cookie or biscuit cutter or an empty tuna or salmon can. Using a can opener, remove and discard top and bottom of can so you have a ring. Be sure to wash and dry well before using. Or, cut out a large circle from a yogurt lid and use that as the template.