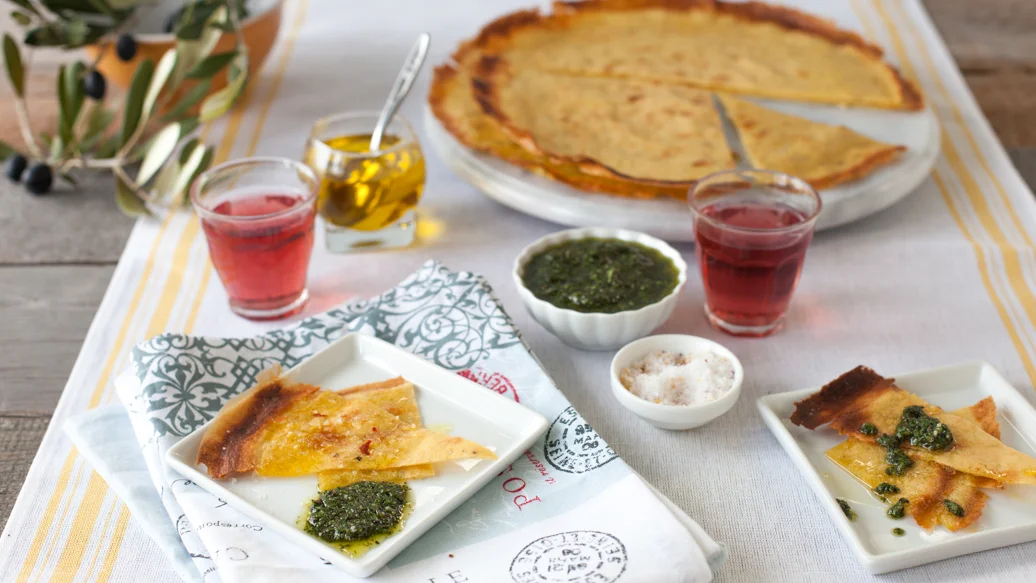 2 hrs 15 min
12 servings
$0.55/serving
Ingredients
1 cup chickpea flour
1 1⁄4 cups water
2 tbsp olive oil
extra virgin olive oil and Sea Salt for serving
Preparation
In a large bowl, whisk flour with Rosemary Garlic Seasoning and Sea Salt. Add water and 1 tbsp oil. Whisk to evenly blend. Or place first 5 ingredients in a wide mouth jar. Using a hand blender, blitz to evenly mix.
Cover mixture and let stand, at room temperature, at least 1 hour, preferably two.
Arrange oven rack in top third of oven and preheat broiler to high. Brush a 12-in frying pan with some of the remaining olive oil. Be sure to brush bottom and sides of pan. Place in oven and let pan heat until very hot, 1–2 minutes.
When very hot, carefully remove from oven. Pour in 1 cup batter and quickly tilt and swirl to form an even coating on bottom and partway up sides of pan (the side bits turn deliciously crispy).
Broil until socca starts to blister and is firm to the touch, about 4–6 minutes. Turn out onto a cutting board. Generously drizzle with olive oil and season with Sea Salt. Repeat process with remaining batter. 
Cut socca into squares, triangles or strips. Dish up with olive oil, Pesto, and generous pinches of freshly ground sea salt.
Nutritional Information
Per serving: Calories 100, Fat 7 g (Saturated 1 g, Trans 0 g), Cholesterol 0 mg, Sodium 35 mg, Carbohydrate 5 g (Fibre 1 g, Sugars 1 g), Protein 3 g.
Tips
Flavour Changer: To Epicurize your Socca or Farinata, try these combinations: