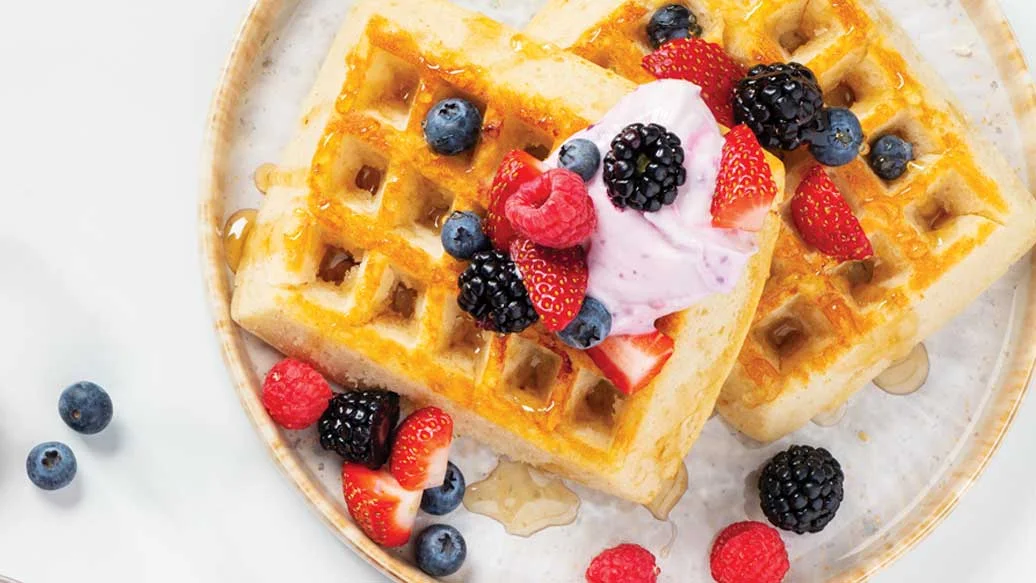 20 min
3 servings (6 waffles)
$4.35/serving
Delicious, gluten-free waffles topped with bursting berry goodness; a great way to start your day!
Perfectly Balance Your Plate
Serve with 1⁄2 cup berries.
Ingredients
1 cup Easy Peasy Bagel, Pancake & Waffle Mix
1 egg
3⁄4 cup milk or non-dairy milk
1 tbsp oil + more for oiling
2 cups 2% plain Greek yogurt or non-dairy yogurt
Toppings (optional): Maple syrup, fresh berries or chopped fruit
Preparation
Preheat oven to 425° F.
Place Waffle Mold on Sheet Pan and generously oil.
In a bowl, whisk together waffle mix, 3 tbsp dip mix, egg, milk, and oil.
Divide batter evenly between molds. Bake for 15 min. 
Meanwhile, in a small bowl stir yogurt with 2 tbsp dip mix.
To serve, place waffles on plate and top with yogurt dip. Drizzle with syrup and add berries, if using.
Nutritional Information
Per serving (2 waffles): Calories 380, Fat 6 g (Saturated 3 g, Trans 0 g), Cholesterol 100 mg, Sodium 510 mg, Carbohydrate 62 g (Fibre 3 g, Sugars 23 g), Protein 20 g.