Summer Berry Marshmallows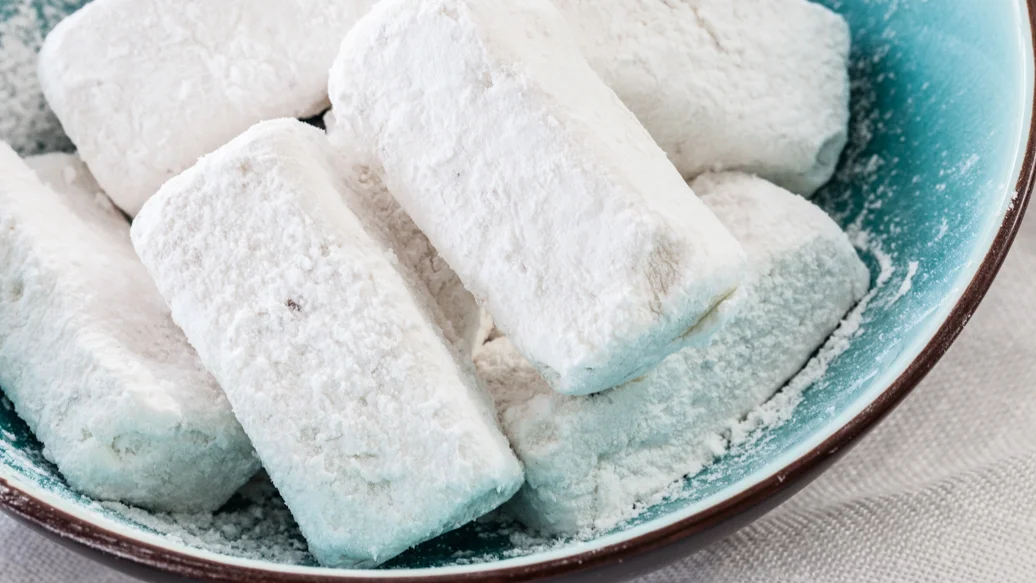 4 1/2 hrs
30 servings
$0.20/serving
Ingredients
2 envelopes gelatin
6 tbsp water
1 cup sugar
1⁄4 cup corn syrup or cane syrup
2 egg whites
2 tbsp Summer Berry Sweet Dip Mix
1 tsp vanilla extract
1⁄2 cup icing sugar, for dusting
1⁄2 cup corn starch, for dusting
Preparation
Thoroughly oil a Perfect Petites and place on a Sheet Pan.
In a small bowl sprinkle gelatin over 1⁄4 cup water.
Combine 2 tbsp water, sugar and corn syrup in a small saucepan over medium high heat. Bring to a boil, without stirring, and cook for 4 minutes.
Using an electric mixer with the whisk attachment, whip egg whites on medium-high speed until stiff peaks are formed. Add in gelatin mixture and continue to beat until incorporated.
Reduce mixer speed and slowly pour in sugar syrup. Add Summer Berry Sweet Dip Mix and vanilla extract. Increase mixer speed to medium high and continue to whip for 5 minutes. Mixture should be thick and slightly warm.
Divide mixture into Perfect Petites. Set aside and allow to dry for 4 hours or overnight.
Sift icing sugar and cornstarch together onto a work surface. Unmold marshmallows into sugar, rolling each one into the sugar mixture to coat.
Nutritional Information
Per serving: Calories 35, Fat 0 g (Saturated 0 g, Trans 0 g), Cholesterol 15 mg, Sodium 5 mg, Carbohydrate 8 g (Fibre 0 g, Sugars 7 g), Protein 1 g.