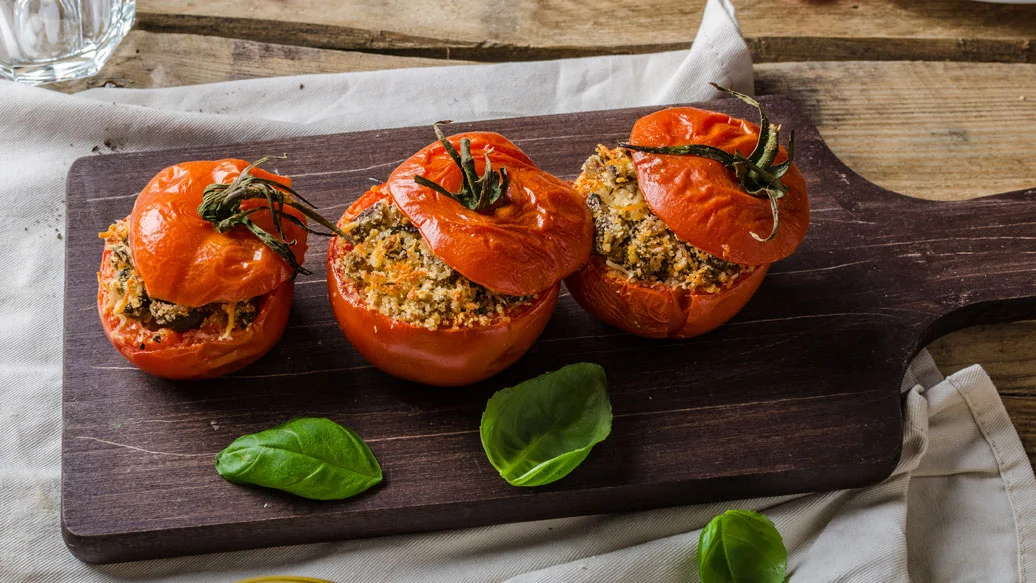 45 min
12 servings
$0.45/serving
The sweetness of these tomatoes is balanced with pungent garlic, walnuts and spice. Serve hot or make ahead and serve at room temperature.
Ingredients
6 Roma tomatoes, cut in half lengthwise
4 tbsp olive oil, divided
2 tbsp walnut crumbs
2 - 3 garlic cloves, crushed
1 cup soft breadcrumbs
1 tsp allspice, ground
Preparation
Preheat oven to 350° F (175° C).
Scoop out flesh from tomato halves into a bowl and reserve.
Warm 2 tbsp oil in frying pan. Add walnuts and cook gently until golden, ensuring the oil or the nuts do not get scorched.
Stir in remaining ingredients and cook until breadcrumbs start to brown.
Stir in reserved tomato pulp, mashing with a fork to break it down a little.
Arrange tomato halves in a baking dish. Fill with breadcrumb mixture. Drizzle with remaining oil and bake for 25 minutes.
Serve at room temperature straight from baking dish.
Nutritional Information
Per serving: Calories 60, Fat 6 g (Saturated 0.5 g, Trans 0 g), Cholesterol 0 mg, Sodium 30 mg, Carbohydrate 3 g (Fibre 1 g, Sugars 1 g), Protein 1 g.
Tips
Sprinkle tops of tomatoes with a little grated Parmesan cheese before baking.