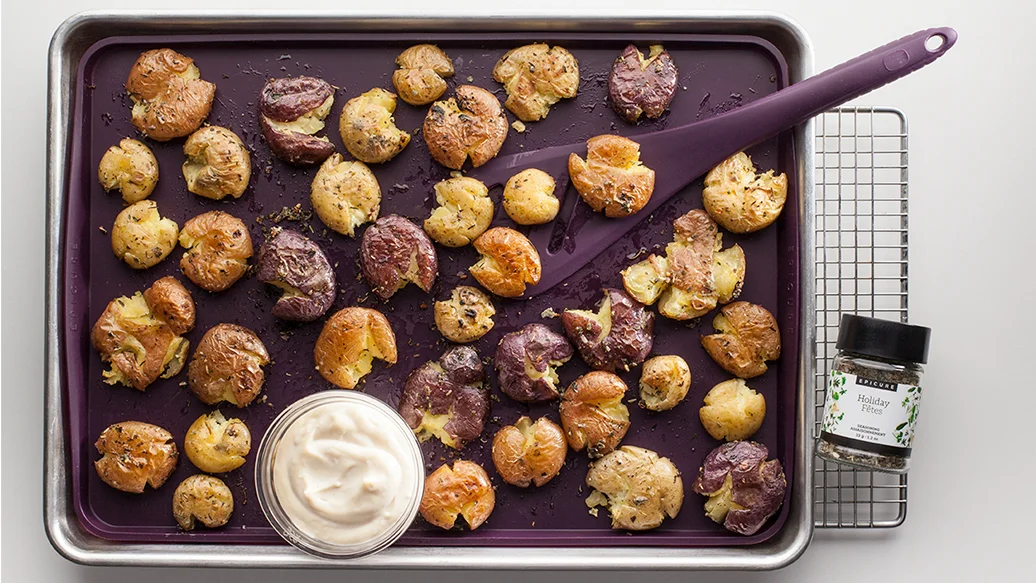 23 minutes
4 servings
$0.80/serving
Crazy crispy on the outside and fluffy on the inside. Perfect side to add to your holiday dinner—a change from the classic mashed potatoes!
Perfectly Balance Your Plate
Serve with 1 serving protein and 2 cups vibrant mixture of raw or cooked veggies.
Ingredients
1 lb (450 g) mixed baby potatoes
2 tbsp unsalted butter or olive oil
1 tbsp Holiday Seasoning
Preparation
Preheat oven to 425° F (220° C). Line a Sheet Pan with a Sheet Pan Liner.
Place potatoes in a Multipurpose Steamer. Microwave on high, with lid on, for 6–8 minutes.
Add butter and gently toss to coat. Spread potatoes in a single layer on baking sheet.
Using a Prep Bowl or glass, smash each potato to about 1⁄2" thickness.
Sprinkle with seasoning and bake for 10 minutes, flipping once.
Once baked, drizzle with Aioli and serve hot.
Nutritional Information
Per serving: Calories 200, Fat 11 g (Saturated 4.5 g, Trans 0 g), Cholesterol 20 mg, Sodium 110 mg, Carbohydrate 22 g (Fibre 2 g, Sugars 1 g), Protein 3 g.