Saucy Lemon Sponge Pudding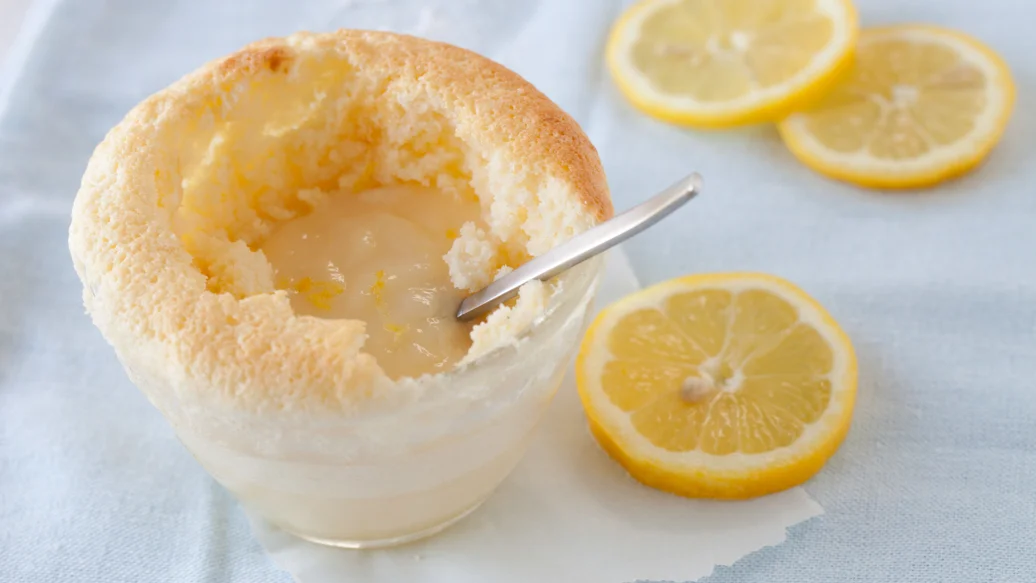 45 min
4 servings
$0.75/serving
This is the English-style pudding, not the American style. Light sponge on top with a delicious custardy sauce underneath.
Ingredients
3 eggs
1 cup granulated sugar
2 lemons
1⁄4 cup butter, at room temperature
1 tsp vanilla extract
1 cup milk, or cream
1⁄3 cup all-purpose flour
1⁄8 tsp salt
Preparation
Preheat oven to 350˚ F (180˚ C). Butter Prep Bowls.
Place egg whites in a large bowl. Using an electric mixer, beat whites until foamy. While mixing, gradually add 2 tbsp sugar and beat until stiff peaks form. Set aside.
Finely grate 1 tbsp peel from lemons, then squeeze 1⁄3 cup juice. Set aside.
In another bowl, using an electric mixer, beat butter with remaining sugar until light and fluffy. Beat in egg yolks, one at a time, then beat in vanilla extract and lemon peel.
Add flour and salt and beat just until mixed. Then gradually beat in lemon juice and milk.
Stir one quarter of egg whites into batter, then gently fold in remaining egg whites until no streaks remain. Divide batter between Prep Bowls and fill right to rims.
Place Prep Bows in a baking dish. Pour in enough hot water to halfway up sides of Bowls. Bake until golden and puffy, about 30–35 minutes. Carefully remove Prep Bowls from water. Serve warm.
Nutritional Information
Per serving: Calories 350, Fat 16 g (Saturated 9 g, Trans 0.4 g), Cholesterol 175 mg, Sodium 85 mg, Carbohydrate 49 g (Fibre 0 g, Sugars 37 g), Protein 8 g.