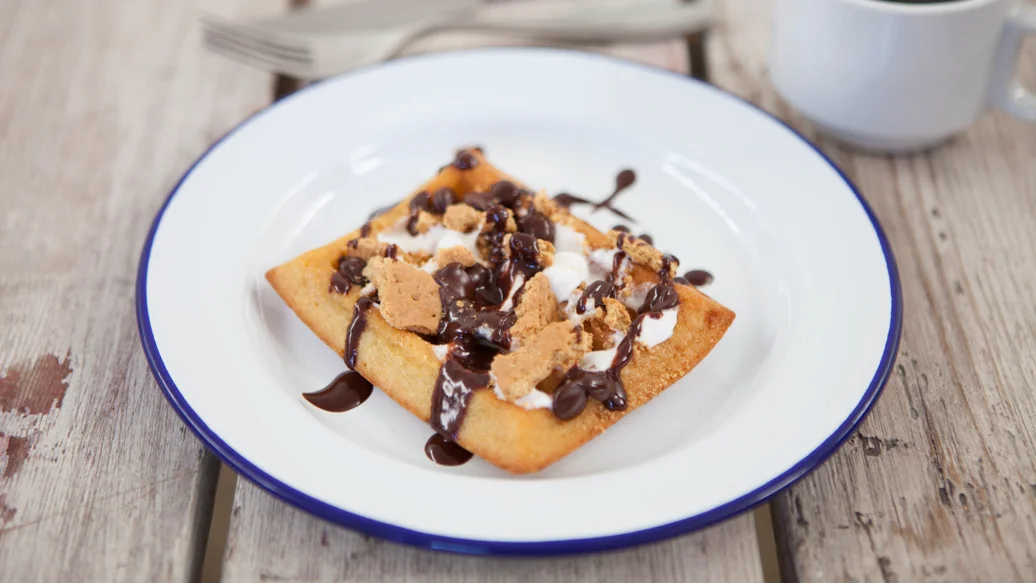 25 - 30 min
6 sandwiches or 12 open-faced waffles
$1.10/serving
Ingredients
1 - 2 tbsp vegetable oil
1⁄2 bag (16 oz/455g) mini marshmallows
1 cup graham cracker crumbs
1 cup dark Belgian chocolate, or milk Belgian chocolate
Preparation
Preheat oven to 425° F (220° C).
Place Waffle Mold on Sheet Pan. Using a basting brush, lightly brush Waffle Mold with vegetable oil.
Pour approximately 1⁄4 cup of batter into each Waffle Mold until it fills all corners.
Bake until golden, approximately 13–15 minutes. Let cool for 2 minutes, or until Waffle Mold is cool to the touch. Gently remove waffles from Waffle Mold and place on Sheet Pan.
Sprinkle 6 waffles with marshmallows, chocolate chips, and graham crumbs. Top with remaining waffles, and squish down. Continue baking until chocolate and marshmallow start to melt, approximately 2–3 minutes. Serve immediately.
Nutritional Information
Per serving (1 open-faced waffle): Calories 370, Fat 14 g (Saturated 4 g, Trans 0 g), Cholesterol 40 mg, Sodium 290 mg, Carbohydrate 53 g (Fibre 2 g, Sugars 26 g), Protein 6 g.
Tips
To achieve that classic squished look, place Sheet Pan Liner and an oven weight on top of your sandwiches before returning to the oven.