Roasted Leg of Lamb with New Potatoes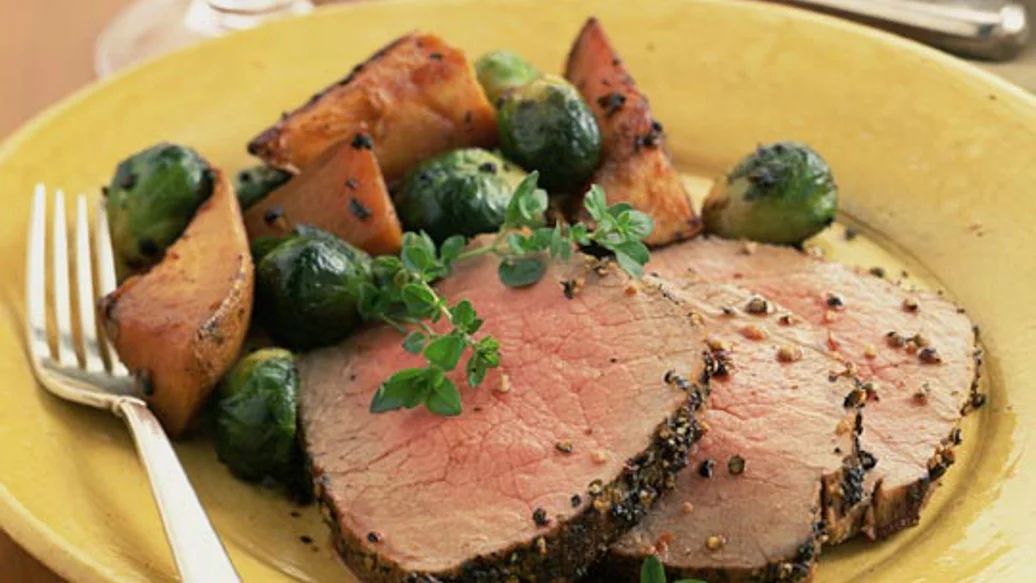 1 1/2 hrs + overnight marinating
6 servings
$5.25/serving
Ingredients
1⁄3 cup olive oil, divided
2 tbsp freshly squeezed lemon juice
1 de-boned leg of lamb, trimmed and tied, (4-5 lbs or about 2 kg) – ask your butcher
Sea Salt, to taste
Black Pepper, to taste
2 lbs (1 kg) new potatoes
2⁄3 cups pearl onions
Preparation
Whisk 1⁄4 cup olive oil with Souvlaki Seasoning, Minced Garlic and lemon juice. Rub onto lamb and marinate in refrigerator overnight.
Remove lamb from refrigerator and preheat oven to 400° F (205° C). Generously season with Salt and Pepper.
Place lamb in a roasting pan and roast in oven for 25 minutes. While lamb is roasting, toss new potatoes and pearl onions in remaining olive oil and season with Sea Salt and Pepper.
Evenly spread potatoes and onions around lamb. Reduce oven temperature to 350° F (175° C) and return lamb to oven for approximately 1 hour or until thickest part reaches an internal temperature of 140° F (60° C).
Remove lamb from roasting pan, loosely tent with foil and allow to rest for 15 minutes before carving. If potatoes are not fully cooked, return to oven while lamb is resting. Serve with Red Pepper Jelly.
Nutritional Information
Per serving: Calories 480, Fat 21 g (Saturated 5 g, Trans 0 g), Cholesterol 145 mg, Sodium 140 mg, Carbohydrate 20 g (Fibre 3 g, Sugars 1 g), Protein 51 g.