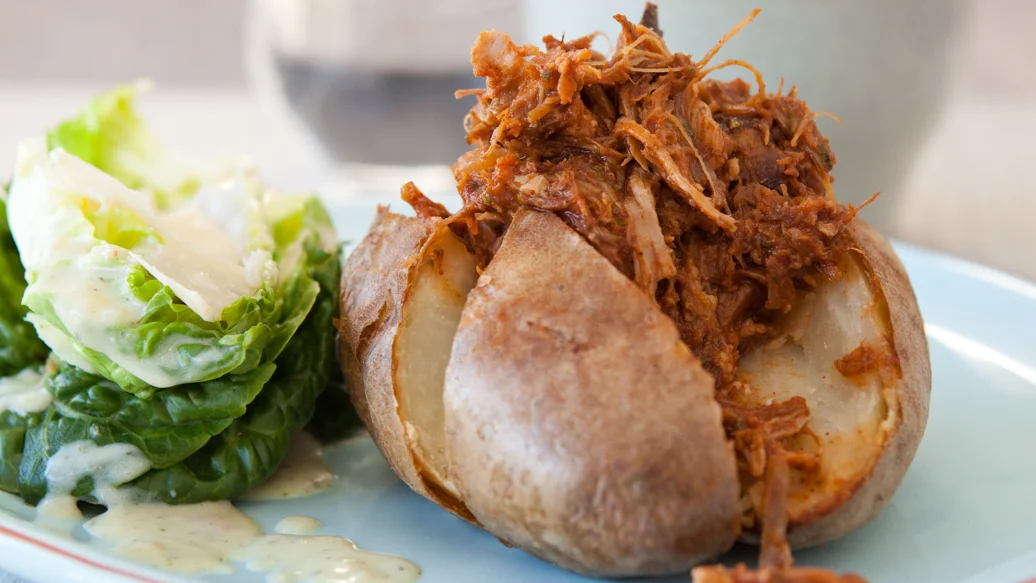 10 min
4 servings
$2.10/serving
Looking to use up leftover pulled pork? Skip the bun and scoop some onto a baked potato for a new way to serve it! As a bonus, potatoes offer fewer calories and greater nutrient density than buns. Add Better Than Bacon Topper and prepared CCB Dip for the ultimate loaded baked potato—these flavours pair perfectly with the smoky, BBQ flavours of the seasoning.
Perfectly Balance Your Plate
Serve with 2 cups leafy greens with 1⁄2 tbsp Epicure Dressing and a squeeze of lemon juice. 
Ingredients
4 Russet potatoes
Sea Salt, to taste
1 tbsp olive oil
Preparation
Wash and scrub potatoes; do not peel. Dry with a kitchen towel. Prick each a few times with a fork. 
Brush with oil, then sprinkle with Sea Salt. Place in Multipurpose Steamer and microwave for 5–7 min, until easily pierced with a fork. Or, place potatoes directly on oven rack and bake in preheated 400° F oven until fork-tender, about 45 minutes to 1 hour. Turn spuds over half way through baking. 
Slice potatoes across the top and top with prepared pulled pork.
Nutritional Information
Per serving: Calories 410, Fat 14 g (Saturated 4 g, Trans 0 g), Cholesterol 65 mg, Sodium 220 mg, Carbohydrate 48 g (Fibre 5 g, Sugars 10 g), Protein 24 g.