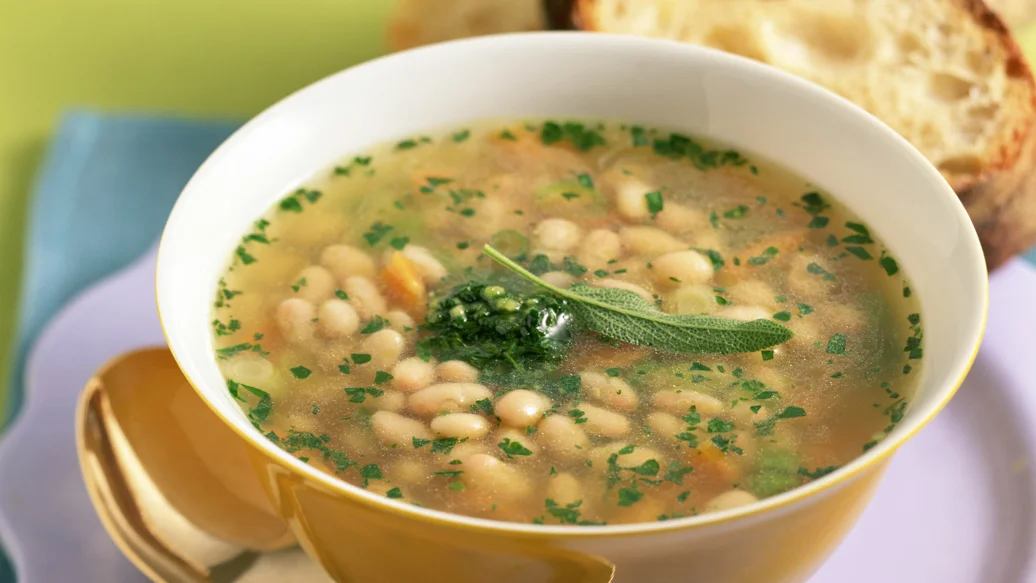 15 - 20 min
4 servings
$1.45/serving
White beans in a flavourful broth is the perfect soup to warm up with: hearty without being heavy, and ready in minutes.
Ingredients
1 tbsp olive oil
1 small onion, diced
1 tsp Herbes Provençales
2 tbsp red bell pepper flakes
1 can (14 oz /398 ml) cannellini beans, drained and well rinsed
1 can (14 oz /398 ml) stewed tomatoes, with juice
1⁄4 cup water
Sea Salt, to taste
Black Pepper, to taste
Preparation
Heat a Multipurpose Pot to medium; add olive oil and onions. Sauté for approximately 2 minutes then add Minced Garlic, Herbes Provençales and red bell pepper. Continue sautéing until onions are translucent.
Add cannellini beans, stewed tomatoes, Nourish Bouillon and water. Stir well and bring to a simmer. Reduce heat to low and continue cooking for approximately 10 minutes, or until all flavours are combined. Season to taste with Salt and Pepper.
Nutritional Information
Per serving: Calories 180, Fat 4.5 g (Saturated 0 g, Trans 0.5 g), Cholesterol 0 mg, Sodium 500 mg, Carbohydrate 28 g (Fibre 6 g, Sugars 6 g), Protein 8 g.
Tips
For a vegan version replace Nourish Broth with Vegetable Broth.
Serve with a drizzle of good olive oil and thick slices of French bread.
The white beans give you almost 20% of your daily recommended fibre.