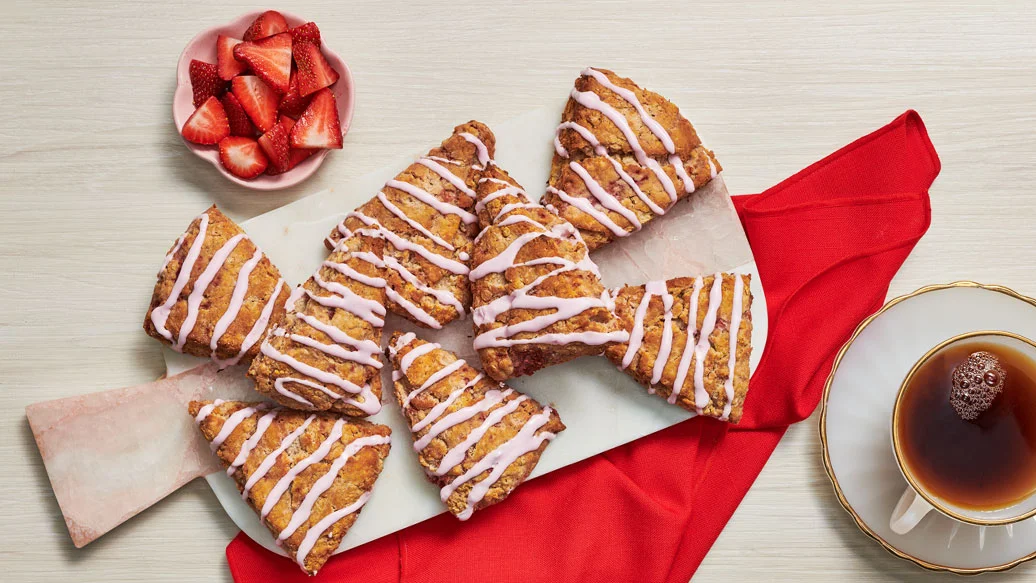 25 min
8 servings
$1.03/serving
No-fail, make-ahead scones even a novice can ace! Crisp on the outside, perfectly sweet and buttery on the inside.
Ingredients
1 egg
1⁄3 cup milk, your choice
1⁄2 cup unsalted butter, cold
1⁄2 cup frozen strawberries
Toppings (optional): pink icing glaze (see Tip)
Preparation
Preheat oven to 425° F. Line Sheet Pan with Sheet Pan Liner.    
In a small bowl, whisk egg with milk. Set aside.    
Cube butter and place in a large bowl with biscuit mix. Using a fork or pastry blender, cut butter until it's the size of small peas. Add egg mixture and stir until a dough forms.    
Place strawberries in Prep Bowl. Microwave, uncovered, 1 min or until hot. Mash until liquid and stir into batter until evenly mixed.    
Gently knead dough to form a ball; press out into 8" circle. Using a sharp knife, cut into 8 wedges. Use spatula to carefully transfer wedges to pan. Bake 17 min, or until golden.   
If desired, pipe pink icing glaze on warm scones.    
Nutritional Information
Per serving: Calories 250, Fat 13 g (Saturated 8 g, Trans 0.5 g), Cholesterol 55 mg, Sodium 330 mg, Carbohydrate 31 g (Fibre 2 g, Sugars 4 g), Protein 3 g.
Tips
To make pink icing glaze, microwave 2 tbsp frozen strawberries in Prep Bowl on high for 30 sec; mash berries. In 4-Cup Prep Bowl, whisk 1⁄2 cup powdered sugar with 1⁄2 tbsp each milk and mashed strawberries. Transfer to piping bag or plastic bag with one corner snipped. Pipe onto cooled scones.  
Don't like strawberries? Frozen raspberries, cherries, or cranberries will work, too! This might affect the moisture content, so adjust with milk as necessary.