Pink Lady Brined and Roasted Chicken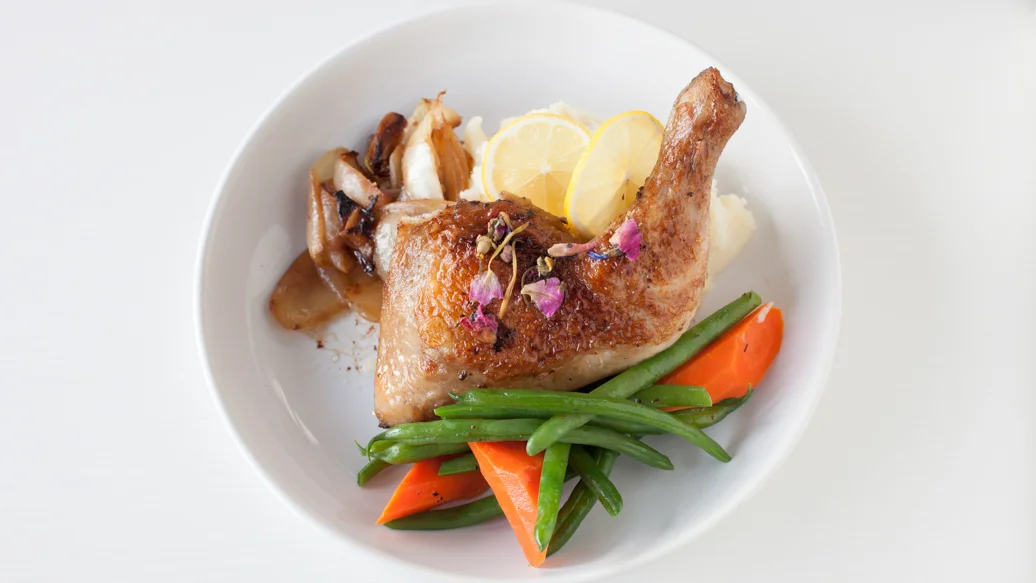 24 hrs
6 servings
$1.67/serving
Moist and full of flavour, this could become a family favourite!
Perfectly Balance Your Plate
Serve with rice pilaf or roast potatoes.
Ingredients
2 tbsp Pink Lady Tea, or tea of your choice
4 cups boiling water
1⁄2 cup packed brown sugar
1 tbsp Sea Salt
1 tbsp Black Pepper
2 medium onions, thinly sliced, divided
1 lemon, thinly sliced, divided
2 cups ice cubes
3 - 4 lbs (1.3 - 1.8 kg) chicken pieces
Preparation
In a Multipurpose Pot, steep tea in water for 10 minutes.
Stir in sugar, Salt, and Pepper until completely dissolved. Add 1 onion, 3⁄4 of the lemon, and Minced Garlic. Add ice and cool completely. Put chicken into plastic bags, fill with the tea brine, seal, and marinate in the fridge overnight.
Pre-heat the oven to 375° F (190° C).
Take chicken out of the brine, and discard brine. Arrange on a Sheet Pan lined with a Sheet Pan Liner.
Roast, basting and turning once or twice, until cooked through and juice runs clear, 40–50 minutes. Approximately 10 minutes before chicken is done, add second onion and squeeze remaining lemon overtop.
Nutritional Information
Per serving: Calories 420, Fat 23 g (Saturated 6 g, Trans 0 g), Cholesterol 110 mg, Sodium 1220 mg, Carbohydrate 24 g (Fibre 1 g, Sugars 19 g), Protein 29 g.