Philly Steak Pretzel Sammie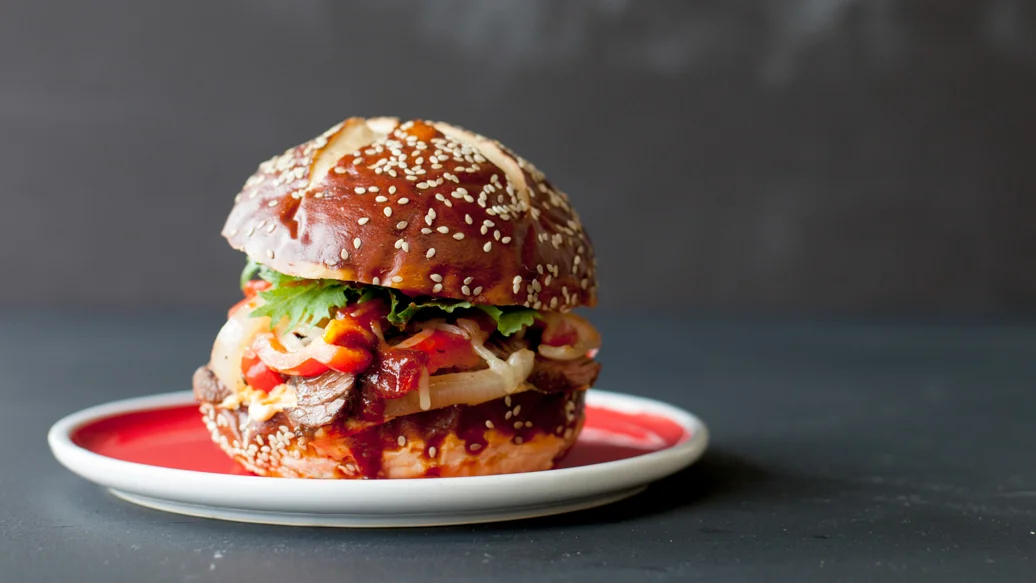 25 min
4 servings
$2.85/serving
An homage to the famous Philly cheesesteak on a glorious soft and salty pretzel bun. Assemble your sammies with steak hot off the grill, or whip 'em up in minutes using leftovers—they'll taste great served cold as well! Lean cuts of beef are a good source of protein, iron, zinc and Vitamin B12, and sandwiches are a great way to sneak extra veggies into your diet.
Perfectly Balance Your Plate
Serve with 1 cup leafy greens with a squeeze of lemon juice.
Ingredients
3⁄4 lb (340 g) lean sirloin or striploin steak
1 medium bell pepper, sliced
1 medium onion thinly sliced
1⁄2 cup grated low-fat mozzarella cheese
1 cup shredded lettuce
4 pretzel buns
Preparation
Preheat barbecue to medium-high heat.
Cook onion and peppers in a Multipurpose Steamer for 2–3 minutes or until soft.
Sprinkle both sides with rub. 
Grill steak over medium-high heat. For medium-rare, cook about 3–4 minutes per side. Remove from grill, let stand 5 minutes, slice thinly and sprinkle with cheese.
Slice pretzel buns, and spread sauce on bottom of bun. Top with sliced steak and cheese, peppers, lettuce and onions. Serve immediately.
Nutritional Information
Per serving: Calories 430, Fat 20 g (Saturated 6 g, Trans 0 g), Cholesterol 75 mg, Sodium 750 mg, Carbohydrate 36 g (Fibre 5 g, Sugars 10 g), Protein 28 g.