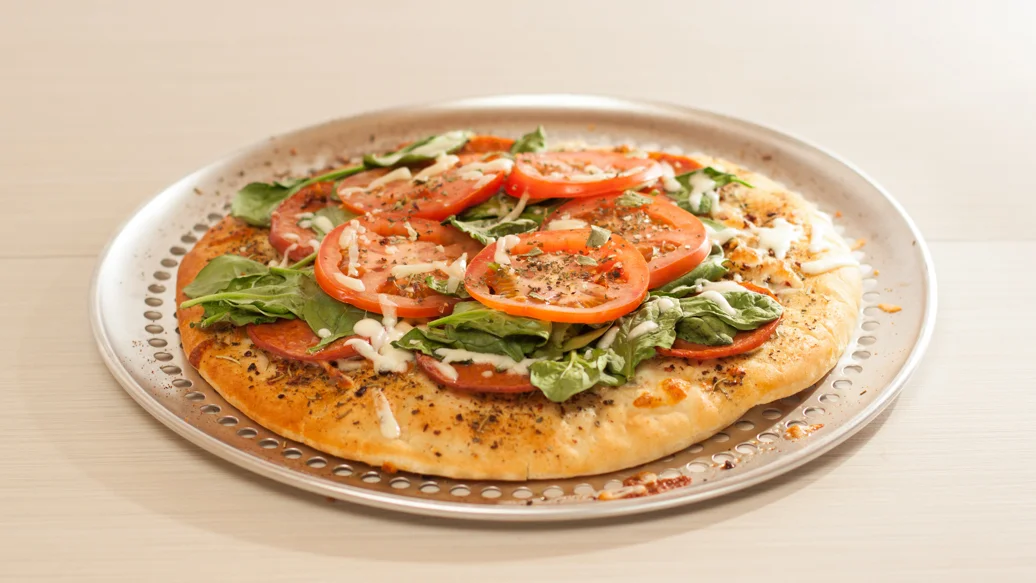 15 - 20 min
8 slices
$1.80/serving
Two small slices of fast-food pepperoni pizza can pack as much as 420 calories, 18 g fat, and 640 mg sodium. Cut that almost in half by opting to dine in on Epicure's better-for-you version!
Ingredients
1 - 12" thin-crust pizza shell
1 tbsp extra-virgin olive oil
1 cup grated partly-skimmed mozzarella cheese
10 oz (300 g) chopped fresh or frozen spinach
8 slices pepperoni
1 large tomato, thinly sliced
Preparation
Preheat oven to 425° F (220° C).
Place shell on crisper. Brush with oil and sprinkle with Rosemary Garlic Seasoning.
Sprinkle with mozzarella, leaving a 1⁄2" edge. Arrange spinach, pepperoni and tomato over cheese. Sprinkle with Sauce Mix.
Bake for 10–15 minutes, or until cheese is bubbling and crust is lightly browned. Cut into 8 slices and serve.
Nutritional Information
Per serving: Calories 210, Fat 11 g (Saturated 4 g, Trans 0 g), Cholesterol 15 mg, Sodium 380 mg, Carbohydrate 20 g (Fibre 2 g, Sugars 1 g), Protein 9 g.