Peppermint Matcha Brownies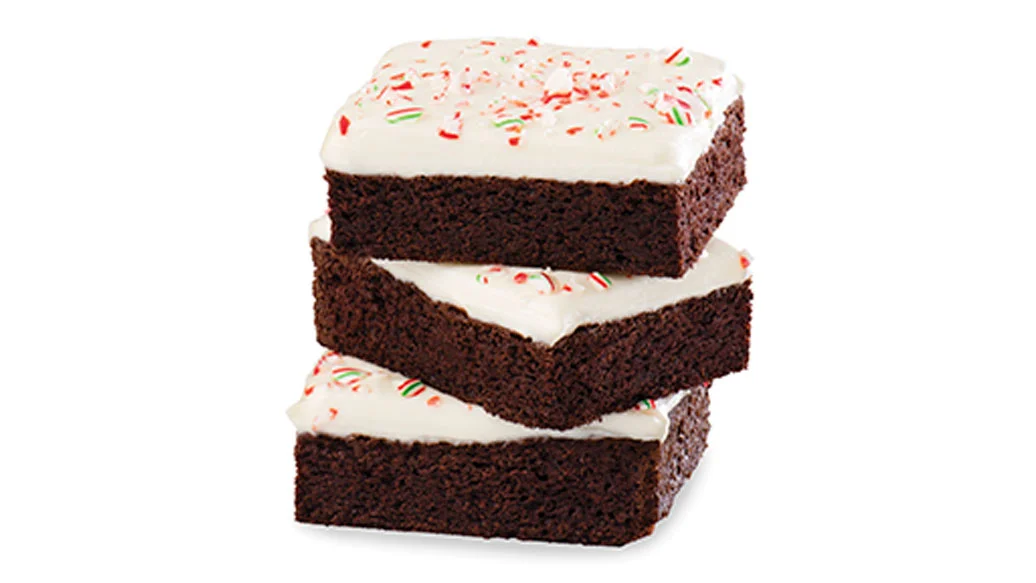 20 min
12 servings
$0.51/serving
Ingredients
2 eggs
1⁄2 cup oil
1 pkg Peppermint Matcha Brownie Mix
Toppings (optional): chopped candy canes or peppermints
Preparation
Generously oil an 8" x 8" silicone square pan.
In a large bowl, whisk eggs with oil; stir in mix. Spread batter in pan and smooth top.
Microwave, uncovered, on high for 4 min. Rest in pan for 6 min; turnout and cool on wire rack. Or, bake in preheated 350° F oven for 15–20 min. Cool in pan before serving.
When cool, add toppings, as desired. Cut into squares and serve.
Nutritional Information
Per serving (no icing): Calories 170, Fat 11 g (Saturated 1.5 g, Trans 0 g), Cholesterol 30 mg, Sodium 170 mg, Carbohydrate 17 g (Fibre 2 g, Sugars 11 g), Protein 3 g.
Tips
Make it vegan—replace eggs with 2 tbsp ground flax combined with 1⁄2 cup water. Rest 5 min before using.
Brownies don't have to be square! Bake them in the Round Cake Pan. Or turn Peppermint Matcha Brownies into chewy cookies. Prep batter according to recipe on pack (batter is dense). Using a 1 tbsp measure as a guide and your hands, shape into balls as best you can. Place on a Sheet Pan lined with a Sheet Pan Liner. Bake in preheated 350° F oven for 10 min. Let cool on pan for 10 min, then transfer cookies to a rack and cool completely. 
Brownie Crackles: Before baking, coat balls with granulated sugar. 
Snowy Brownie Cookies: After baking, coat cool cookies with icing sugar.