Pearl Barley and Carrot Risotto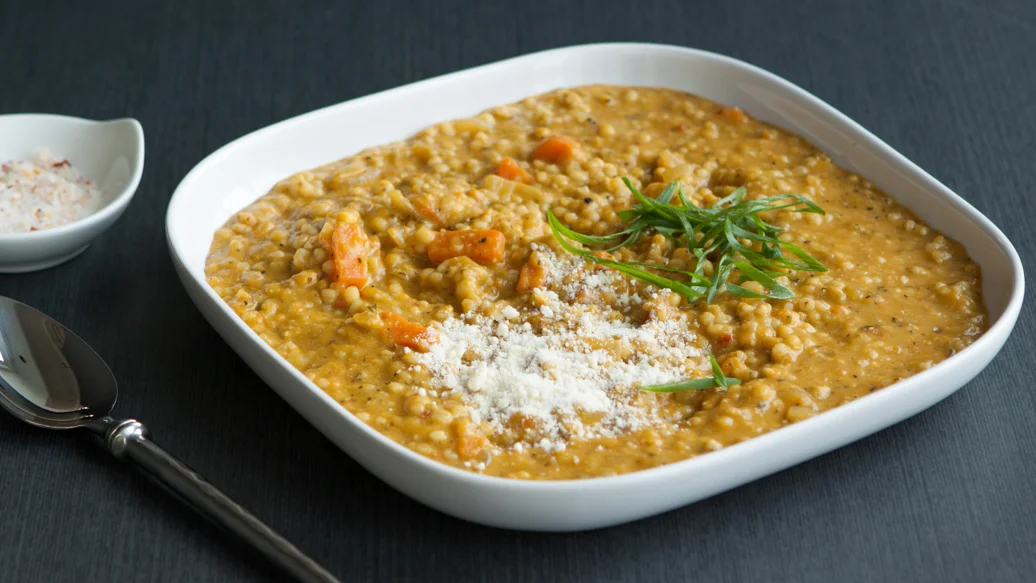 1 hr & 15 min
6 - 8 servings
$0.93/serving
An elegant side with layers of flavour - nutritious ancient grains never tasted so good!
Ingredients
4 carrots, peeled, chopped and divided
3 tbsp olive oil or butter
2 garlic cloves, minced
1 onion, finely chopped
1 cup pearl barley
2 green onions, sliced — optional
1⁄2 cup Parmesan cheese, grated
Sea Salt, to taste
Black Pepper, to taste
Preparation
In Multipurpose Pot, bring Nourish Broth to a boil. Add 3 carrots and simmer until very tender, then purée mixture. Strain through a sieve and discard any solids. Set aside and keep warm.
Heat oil in large frying pan over medium heat. Add garlic, onion and Marinara Sauce Mix. Finely chop and add remaining carrot. Stir often for 3-5 minutes, until onion is soft.
Add barley and stir to coat. Pour in 2 cups strained broth. Bring to a boil, then reduce heat. Simmer, stirring often, until most of the liquid is absorbed. Add remaining stock, 1⁄2 cup at a time, letting it absorb before adding more. Simmer about 45 minutes, until barley is tender.
Remove from heat and stir in green onions and Parmesan. Taste and season with Salt and Pepper.
Nutritional Information
Per serving: Calories 180, Fat 8 g (Saturated 1.5 g, Trans 0 g), Cholesterol 5 mg, Sodium 200 mg, Carbohydrate 22 g (Fibre 6 g, Sugars 3 g), Protein 7 g.