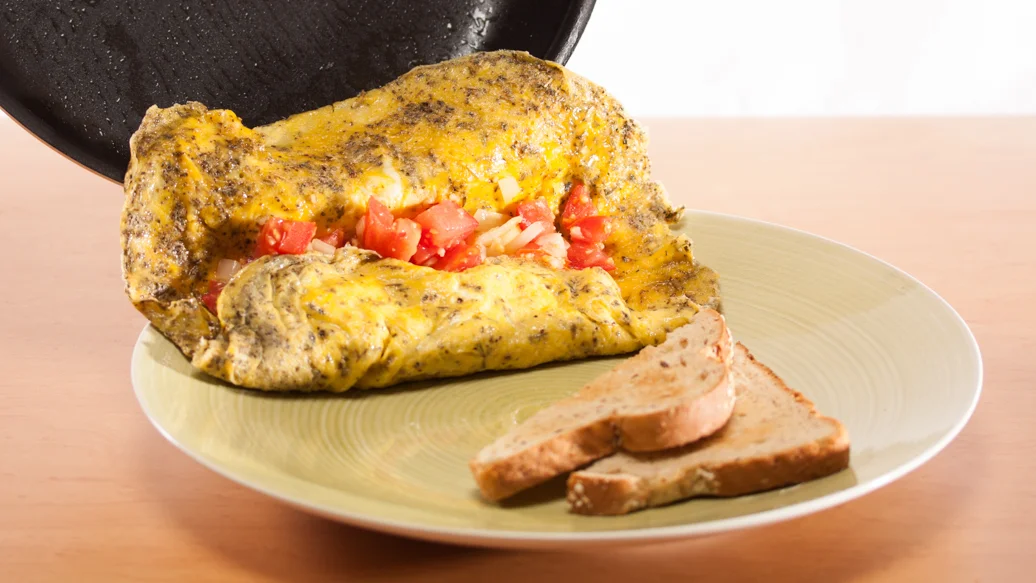 13 min
1 serving
$2.20/serving
Traditional French omelettes are beaten with water, cooked one at a time in a large, flat circle, then folded or rolled.
Ingredients
3 eggs
1 tsp Herbes Provencales
1 tbsp olive oil
1 small onion, diced
1 small tomato, diced
1 tbsp butter
Preparation
Whisk eggs with 1⁄4 tsp Herbes Provençales.
Heat a frying pan over medium. Add oil and onion. Sauté for 2 minutes, or until softened. Stir in Minced Garlic, and remaining Herbes Provençales.
Wipe pan with a paper towel and return to heat. Melt butter, add eggs and rapidly stir using a wooden spoon or non-stick spatula.
Sauté for 1-2 minutes, until tomato is warmed through. Set aside.
Shape omelette by folding it into thirds starting with the edge closest to you. Gently slide onto a plate. Serve.
Stop stirring once mixture begins to set. When eggs are cooked, remove pan from heat and spoon onion-tomato filling into middle.
Nutritional Information
Per serving (1 omelette): Calories 400, Fat 29 g (Saturated 13 g, Trans 0.3 g), Cholesterol 765 mg, Sodium 600 mg, Carbohydrate 12 g (Fibre 3 g, Sugars 6 g), Protein 24 g.
Tips
Fill omelette with a variety of cheeses, mushrooms, or olives.