Make-Ahead Spinach Dip Breakfast Casserole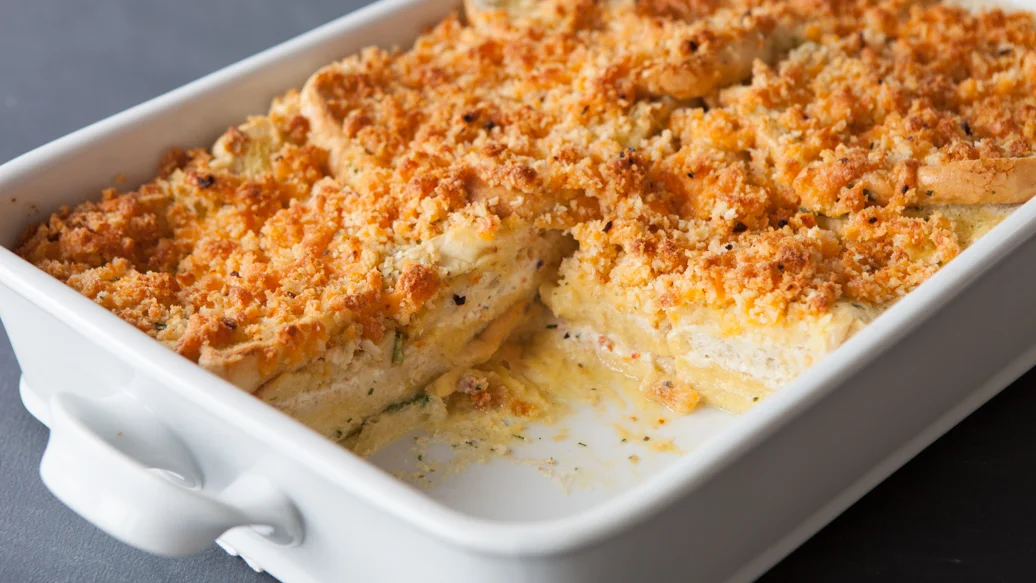 5 hrs
12 servings
$1.10/serving
Save more of your morning – prep this the night before, so all you have to do is wake up, bake up, and dish up!
Ingredients
12 slices white or whole-wheat bread
6 eggs
3 cups milk
1 cup grated cheddar cheese
1 cup bread crumbs
1⁄2 cup unsalted butter, melted
1 tbsp Spinach Dip Mix
Preparation
Spread 6 bread slices with Hot Spinach Dip. Arrange in a 9" x 13" baking dish – it's okay to overlap slices. Cover with remaining slices.
In a bowl, beat eggs with milk and 3 Onion Dip mix. Pour over bread. Cover and refrigerate at least 4 hours, or overnight.
When ready to bake, preheat oven to 350° F (175° C).
In a bowl, stir cheddar with breadcrumbs, butter, and Spinach Dip Mix. Sprinkle over casserole.
Bake until deep golden and set, approximately 50–60 minutes. Let stand 10 minutes before serving.
Nutritional Information
Per serving: Calories 270, Fat 15 g (Saturated 7 g, Trans 0.1 g), Cholesterol 150 mg, Sodium 390 mg, Carbohydrate 21 g (Fibre 3 g, Sugars 7 g), Protein 14 g.
Tips
Gluten-free Tip: Swap bread for gluten-free bread. They taste best toasted before making this recipe.