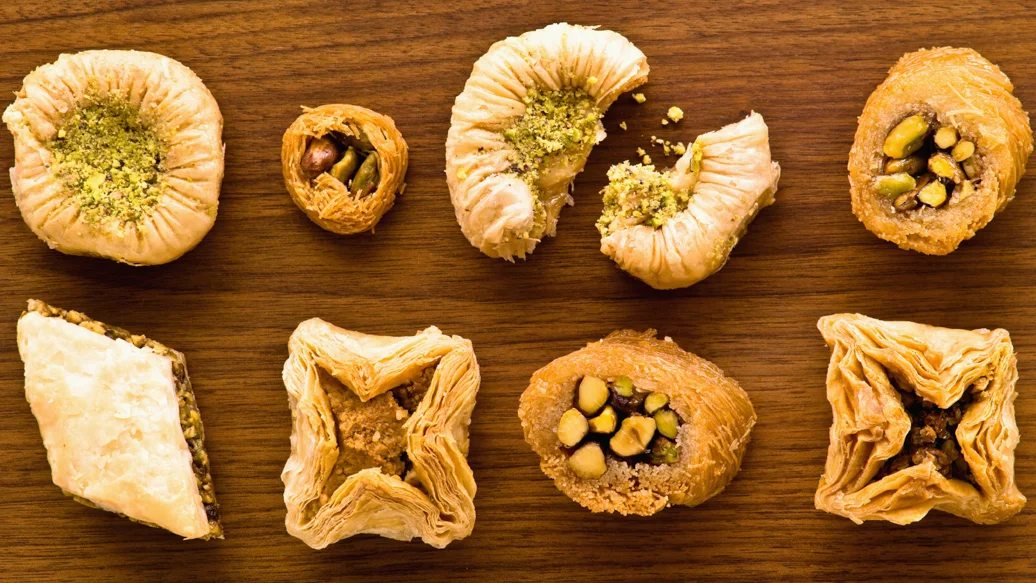 25 - 40 min
32 servings (16 servings per roll)
$0.35/serving
Ingredients
1 1⁄2 cups honey
1 cup water
1 tbsp fresh lemon juice
3 cloves (whole)
1⁄4 cup coarsely chopped blanched, unsalted almonds
1⁄4 cup coarsely chopped walnuts
3 tbsp sugar
24 sheets frozen phyllo dough, thawed
2 - 3 tbsp oil
Dukkah spice blend, to taste
Preparation
Preheat oven to 350° F (175° C).
In Multipurpose Pot - 8 cup, combine honey, water, lemon juice, cloves and Cinnamon over low heat. Stir for approximately 2 minutes, until honey is completely dissolved. Increase heat to medium and cook, without stirring, for approximately 10 minutes. Remove from heat and cover to keep warm. Remove cloves and discard.
In a small mixing bowl, combine nuts, sugar and Cinnamon. Set aside.
Take 2 phyllo sheets at a time (cover remaining phyllo sheets with a damp, not wet, cloth to prevent drying), and place lengthwise on Sheet Pan lined with Sheet Pan Liner. With a basting brush, lightly brush with oil. Repeat procedure 5 more times, for a total of 6 layers per roll.
Sprinkle phyllo evenly with half nut mixture and drizzle with 1⁄4 of sauce mixture. Roll, starting at one of the long ends, to form a long, cigar-like cylinder.
Score top with a knife. Repeat to make a second roll. Bake for 20–30 minutes, or until phyllo is golden brown. Remove from oven.
Drizzle each log evenly with remaining sauce mixture. Sprinkle with Dukkah. Cool in pan on cooling rack.
Store covered at room temperature.
Nutritional Information
Per serving: Calories 110, Fat 3 g (Saturated 0.4 g, Trans 0 g), Cholesterol 0 mg, Sodium 70 mg, Carbohydrate 22 g (Fibre 1 g, Sugars 13 g), Protein 2 g.