Lemon Dilly Smoked Salmon Waffles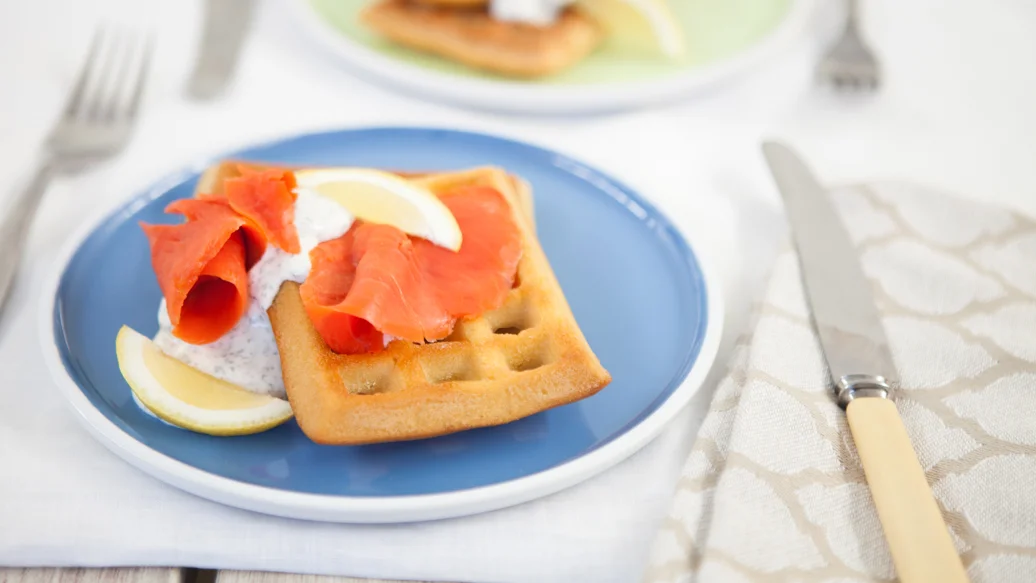 23 - 25 min
12 waffles
$1.00/serving
Perfectly Balance Your Plate
Serve this sublime, savoury waffle with a perfectly poached egg.
Ingredients
1 - 2 tbsp vegetable oil
8 oz (225 g) smoked salmon, sliced or chunked
lemon wedges, for garnish – optional
Preparation
Preheat oven to 425 °F (220 °C).
Place Waffle Mold on Sheet Pan. Using a basting brush, lightly brush Waffle Mold with vegetable oil.
Pour approximately 1⁄4 cup of batter into each Waffle Mold until it fills all corners.
Bake until golden, approximately 13–15 minutes. Let cool for 2 minutes, or until Waffle Mold is cool to the touch. Gently remove waffles from Waffle Mold.
Serve with smoked salmon, Lemon Dilly Dip, and lemon wedges, if you like.
Nutritional Information
Per serving (1 waffle): Calories 240, Fat 12 g (Saturated 2 g, Trans 0 g), Cholesterol 55 mg, Sodium 450 mg, Carbohydrate 23 g (Fibre 1 g, Sugars 4 g), Protein 8 g.
Tips
If you want to bring this gorgeous waffle up a notch, top with some capers and thinly sliced red onion.