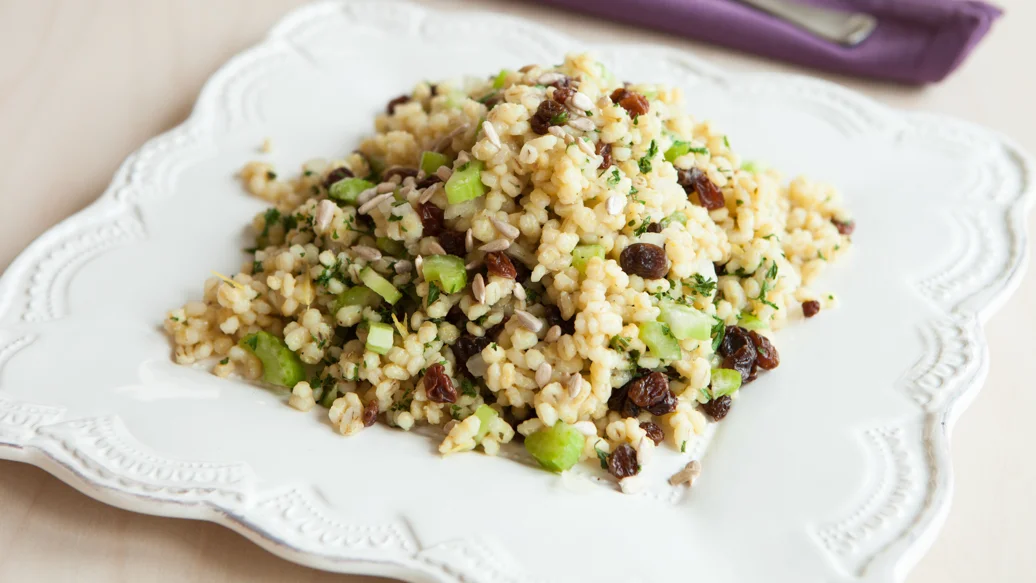 45 - 50 min
4 servings
$1.10/serving
Barley is a good source of both fill-you-up fast complex carbs (fibre, selenium) and minerals (phosphorus, copper and manganese).
Perfectly Balance Your Plate
Serve with grilled steak and steamed veggies.
Ingredients
2 small onions, finely chopped
2 - 3 tbsp celery stalks, finely chopped
1 tbsp olive oil
1 cup pearl barley
1 cup water
1 tbsp lemon juice, grate rind
1 - 2 tsp Greek Seasoning, or Souvlaki Seasoning
1⁄4 cup golden raisins
1⁄4 cup sunflower seeds, optional
1 tbsp Fines Herbes Topper, optional
Preparation
In a medium saucepan, sauté onions and celery in oil until tender.
Add barley, Nourish Broth, water, lemon rind and Greek Seasoning. Bring to a boil and let simmer for 40 minutes.
Remove from heat, and add raisins and lemon juice. Sprinkle with sunflower seeds and Fines Herbes just before serving.
Nutritional Information
Per serving: Calories 260, Fat 4.5 g (Saturated 0.5 g, Trans 0 g), Cholesterol 0 mg, Sodium 85 mg, Carbohydrate 49 g (Fibre 11 g, Sugars 10 g), Protein 7 g.