Greek Lemon Chicken Soup (Avgolemono)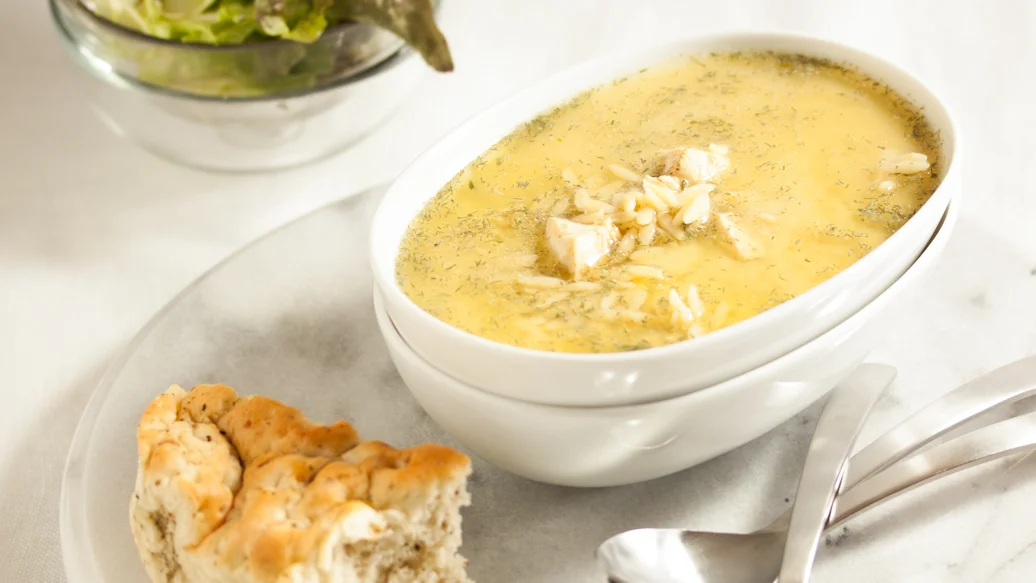 20 min
4 servings
$2.96/serving
Perfectly Balance Your Plate
Serve with 2 cups leafy greens and 1 tbsp Epicure Dressing, your choice. 
Ingredients
1 cup uncooked orzo or rice
4 eggs
4 lemons
1 cup diced cooked chicken
Sea Salt, to taste
Black Pepper, to taste
Preparation
Pour broth in Multipurpose Pot. Cover; bring to a boil over medium-high heat. Once boiling, add orzo and cook, partially covered, until tender, about 10 min. If using rice, about 20 min. Once cooked, reduce heat and simmer, uncovered.  
Meanwhile, in a large bowl, add eggs and dressing mix. Using 2-in-1 Citrus Press, squeeze in juice from lemons. Whisk to combine.  
Slowly whisk in 2 cups of hot broth into egg and lemon mixture. This tempers the eggs and prevents curdling.  
Whisk the tempered egg mixture into remaining broth.  
Add chicken and simmer until heated through, about 2 min. Season with salt and pepper to taste. Serve immediately.  
Nutritional Information
Per serving: Calories 320, Fat 8 g (Saturated 2.5 g, Trans 0 g), Cholesterol 265 mg, Sodium 280 mg, Carbohydrate 42 g (Fibre 3 g, Sugars 4 g), Protein 22 g.