Greek Layer Dips for Verrines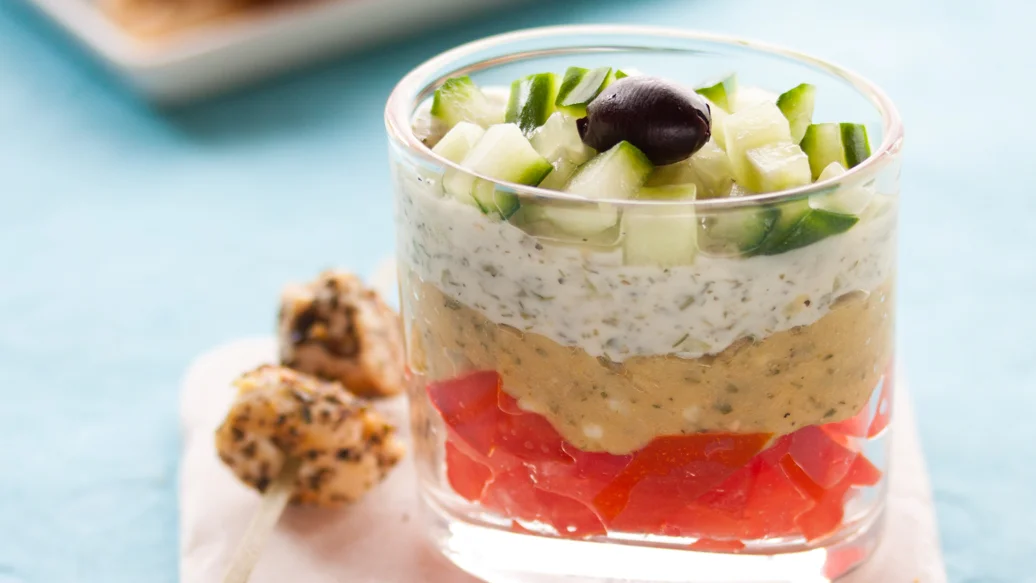 30 min
6 verrines
$0.62/serving
Ingredients
1⁄3 cup finely diced tomato
1⁄4 cup finely diced cucumber
1 small chicken breast, cut into cubes
1 tbsp Souvlaki Seasoning
1 tbsp olive oil
6 mini bamboo skewers
6 black olives
Preparation
Divide tomato between 6 verrines.
Use a piping bag or carefully spoon hummus into each verrine. Smooth surface to edges.
Divide Tzatziki between verrines and top with cucumber. Cover and refrigerate while preparing souvlaki.
To prepare souvlaki, toss chicken with Souvlaki Seasoning and oil. Season with Sea Salt and Pepper. Brown quickly in frying pan over medium-high heat.
Thread 2 cubes of chicken on the end of 6 mini bamboo skewers and serve alongside each verrine. Top verrines with a black olive.
Nutritional Information
Per serving: Calories 0, Fat 0 g (Saturated 0 g, Trans 0 g), Cholesterol 0 mg, Sodium 0 mg, Carbohydrate 0 g (Fibre 0 g, Sugars 0 g), Protein 0 g.