French Canadian Tourtière (Meat Pie)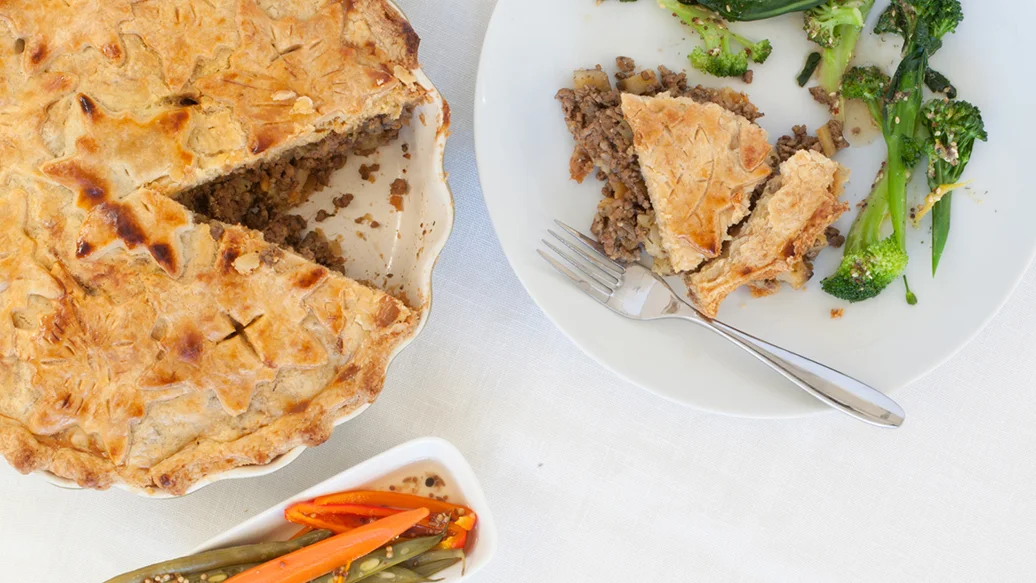 1 hour
6 servings
$1.85/serving
Ingredients
1 egg
2 tbsp milk
1⁄2 lb (225 g) each lean ground beef, lean ground pork, and ground veal
2 tbsp all-purpose flour
1 tsp Pumpkin Pie Spice
1 1⁄4 cups beef broth
1 1⁄4 cups water
4 cups small cubed potatoes, boiled until tender
Sea Salt, to taste
Black Pepper, to taste
2 x 9" pie pastries, prepared or store-bought
Preparation
Beat egg with milk. Set aside.
Cook meats in a large pan over medium heat until no longer pink inside. Drain excess fat.
Sprinkle flour and Epicure seasonings over meat, stirring well.
Combine beef broth and water. Add slowly and stir. Simmer until most of liquid has evaporated. Add potatoes, Sea Salt, and Black Pepper.
Remove from heat. Cool to room temperature or refrigerate.
Preheat oven to 425° F (220° C).
Place chilled filling into prepared bottom pastry shell. Brush edges with egg and milk mixture and top with second pastry. Crimp edges and poke steam holes in top.
Bake 20 minutes. Reduce temperature to 350° F (175° C). Continue baking for 20 minutes.
Nutritional Information
Per serving: Calories 420, Fat 18 g (Saturated 6 g, Trans 0 g), Cholesterol 115 mg, Sodium 290 mg, Carbohydrate 38 g (Fibre 3 g, Sugars 2 g), Protein 27 g.