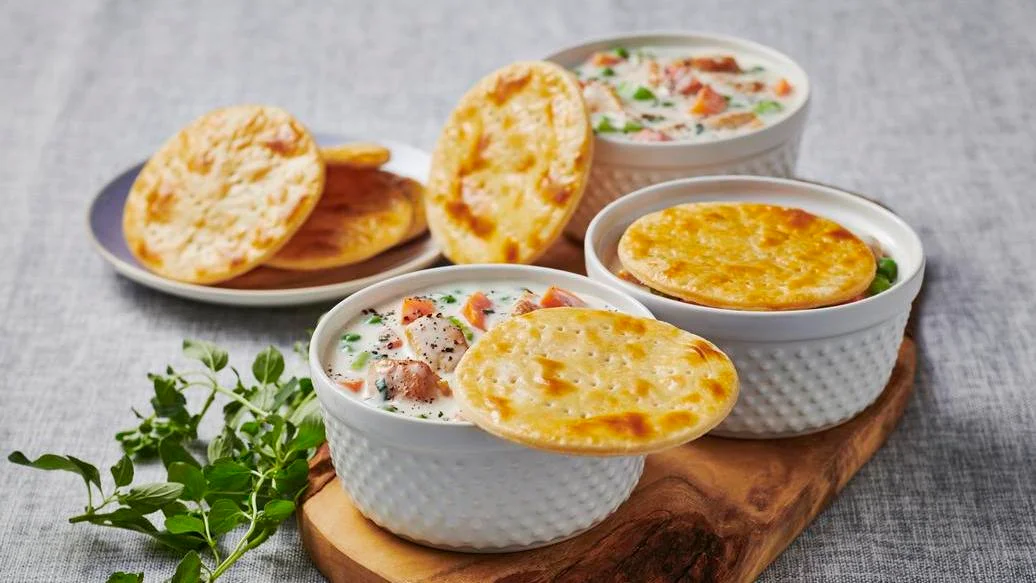 25 min (including 20 min refrigeration)
1 pie dough (8 servings)
These crispy and delicious pie dough cutouts make a great topper for your favourite stew. Try on our Home-Style Chicken Stew!
Ingredients
1⁄4 cup cold, unsalted butter
1 pkg Easy As Pie Dough Mix, divided
3 tbsp ice water
1 tbsp olive oil
Preparation
Preheat oven to 425°F. Line Sheet Pan with Sheet Pan Liner.
Chop butter into cubes.
In a food processor, add 1 cup dough mix. Set remaining mix aside for dusting. Add cubed butter and pulse to form coarse crumbs. Pulse in ice water, 1 tbsp at a time, until dough starts to form a ball.
Lightly dust counter with half of reserved mix. Turn dough onto counter. Using your hands, gently knead dough to form into a ball. Press to flatten into a disc. Wrap in plastic wrap and refrigerate 20 min.
Lightly dust Marble Rolling Pin and Pastry Mat (or counter) with remaining mix. Roll dough into a 10" circle. Using the mouth of a glass as a guide, cut the dough into circles, using as much of the dough as possible.
Place the rounds on the sheet pan and brush with olive oil. Gently poke some holes in the dough with a fork and bake for 8—12 min, until golden brown and flaky.
Nutritional Information
Per serving: Calories 0, Fat 0 g (Saturated 0 g, Trans 0 g), Cholesterol 0 mg, Sodium 0 mg, Carbohydrate 0 g (Fibre 0 g, Sugars 0 g), Protein 0 g.