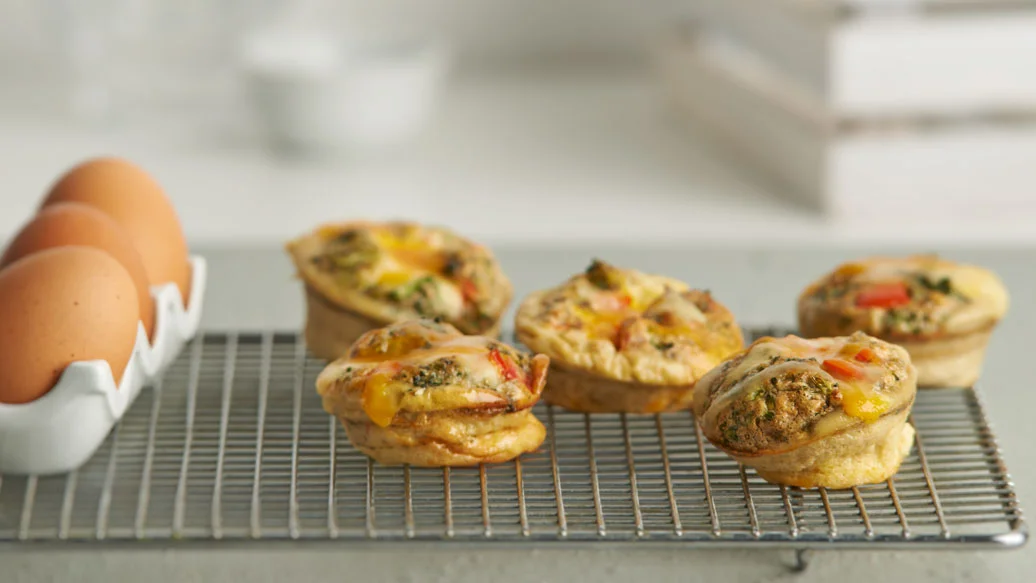 30 min
24 quiches
$0.77/serving
Don't know what to do with the extra veggies in your fridge? Make this easy, protein-rich veggie quiche! Eggs are an affordable, high-quality protein source to support strong muscles and keep you full all morning. Use cottage cheese for even more of a protein boost! Drizzle prepared Hollandaise Sauce over the quiches—the subtle, sweet tang of the sauce compliments the chives and cheese in CCB Dip Mix.  
Perfectly Balance Your Plate
Enjoy 2 mini quiche with 2 slices of toast with 2 tsp butter and 1 sliced tomato.
Ingredients
12 large eggs
3⁄4 cup milk, your choice
Sea Salt, optional
Black Pepper, optional
1 cup grated cheese, your choice, divided
1 1⁄2 cups finely diced mixed fresh or frozen vegetables
Preparation
Preheat oven to 375° F (190° C). Lightly oil Muffin Maker with vegetable oil.
In a large bowl, whisk together eggs, milk, and seasoning or dip mix, and season to taste.
Add veggies and stir to combine. Stir in half of the cheese.
Scoop the mixture evenly into Muffin Maker, then sprinkle a small amount of reserved cheese over each.
Bake in the oven for 20–25 minutes, or until the egg is fully set and the cheese has just started to turn golden on top.
Let cool before removing from the pan.
Nutritional Information
Per serving (2 quiches): Calories 140, Fat 9 g (Saturated 3.5 g, Trans 0.1 g), Cholesterol 195 mg, Sodium 150 mg, Carbohydrate 5 g (Fibre 1 g, Sugars 2 g), Protein 10 g.
Tips
Slash time in the oven by steaming the veggies in the microwave in Rectangular Steamer before adding to Muffin Maker and baking. 
Make a big batch and have your breakfast ready for the week. Freeze individual portions and reheat 2–3 min in the microwave.