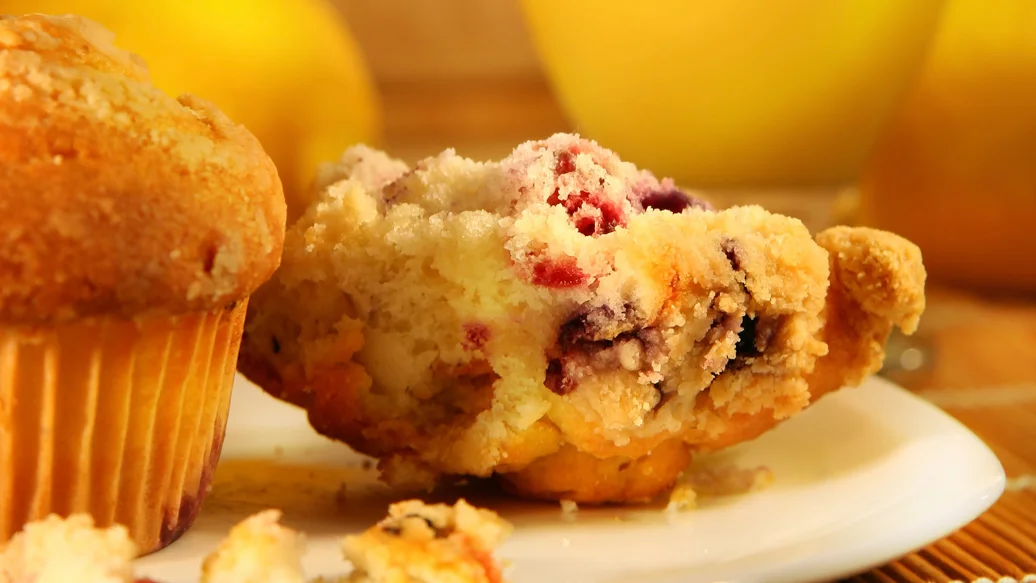 35 min
12 muffins or 4 mini-loaves
$0.85/serving
Ingredients
1 1⁄4 cups bran cereal
1 1⁄3 cups low-fat plain yogurt
1 egg
1 tbsp orange zest
1 cup 100% orange juice
1 cup honey
1⁄4 cup vegetable oil
1 cup all purpose flour
1 cup whole-wheat flour
2 tsp baking powder
1 tsp baking soda
1 cup fresh or frozen cranberries, halved
Preparation
Preheat oven to 375° F (190° C). Lightly grease a Muffin Maker or Mini Loaf Pans.
Combine cereal and yogurt in a medium mixing bowl. Let stand 5 minutes.
Stir in egg, orange zest, orange juice, honey and oil.
In a large mixing bowl, mix remaining dry ingredients including berries. Batter will be lumpy.
Spoon into muffin or loaf pans.
Bake 25 minutes, or until set and golden. Cool on rack.
Nutritional Information
Per serving: Calories 220, Fat 6 g (Saturated 1 g, Trans 0 g), Cholesterol 20 mg, Sodium 290 mg, Carbohydrate 41 g (Fibre 6 g, Sugars 16 g), Protein 5 g.
Tips
Make mini loaves and serve toasted slices with tea.