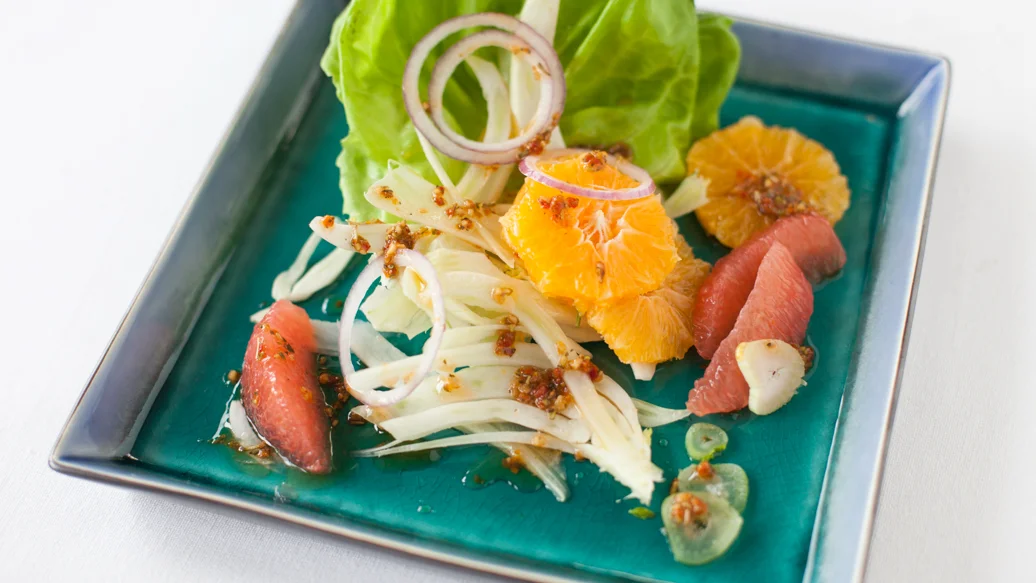 15 - 20 min
4 - 6 servings
$2.05/serving
Ingredients
2 pink grapefruits
2 large oranges
1 fennel bulb, thinly sliced
1 small red onion, thinly sliced
8 cups crunchy romaine or iceberg lettuce, washed, dried, and torn into bite-sized pieces
1 tsp honey
1 tbsp olive oil
1 recipe prepared Molto Bene Sauce
Preparation
Cut grapefruits and oranges in half. Ream one half of each and reserve the juice. Use a grapefruit knife to remove sections of remaining halves and set aside.
In a large bowl, combine sections with fennel and onion. Add lettuce.
Whisk together reserved juice, honey, oil, and Molto Bene sauce. Drizzle over salad, toss gently, and serve.
Nutritional Information
Per serving: Calories 150, Fat 8 g (Saturated 1 g, Trans 0 g), Cholesterol 0 mg, Sodium 70 mg, Carbohydrate 20 g (Fibre 5 g, Sugars 7 g), Protein 3 g.
Tips
If you don't have fennel, try thin slices of crisp celery and raw carrot for that extra crunch.