Chocolate Whole-Wheat Waffles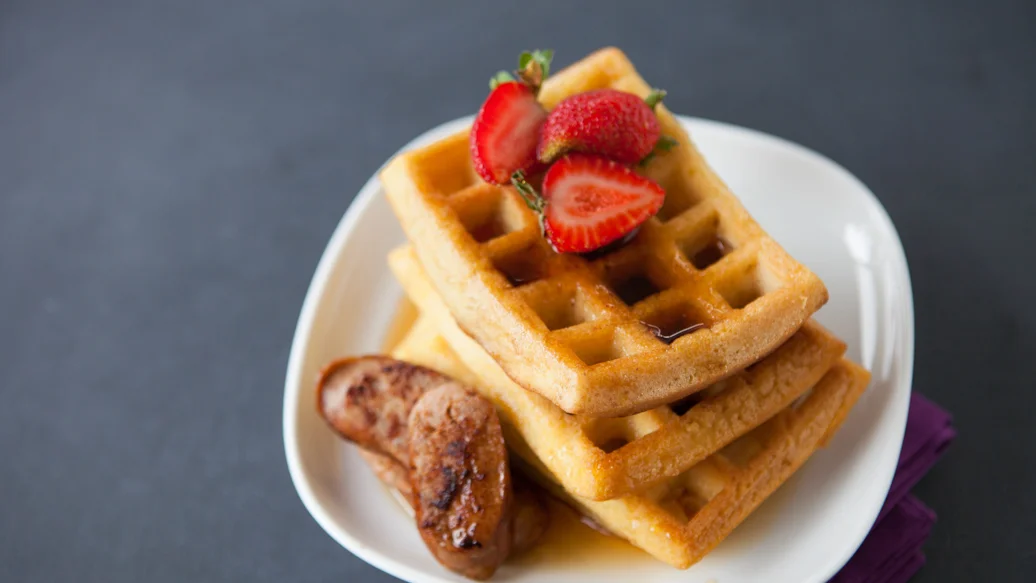 18 - 22 min
12 waffles
$0.85/serving
A wholesome, satisfying twist on our classic recipe.
Ingredients
1 - 1 1⁄2 cups chocolate chips
1 recipe prepared
Classic Waffles
, (replace half white flour with whole-wheat flour)
1 - 2 tbsp vegetable oil
1 tbsp melted unsalted butter
1 tbsp dark chocolate sprinkles
1 tbsp white chocolate sprinkles
Preparation
Preheat oven to 425° F (220° C).
In a mixing bowl, fold chocolate chips into batter.
Place Waffle Mold on Sheet Pan. Using a basting brush, lightly brush Waffle Mold with oil.
Pour approximately 1⁄4 cup of batter into each Waffle Mold until it fills all corners.
Bake until golden, approximately 13–15 minutes. Let cool for 2 minutes, or until Waffle Mold is cool to the touch. Gently remove waffles from Waffle Mold.
Using a basting brush, brush waffles lightly with butter, and sprinkle each with a line of Dark and White Chocolate Sprinkles before serving.
Nutritional Information
Per serving (1 waffle): Calories 290, Fat 15 g (Saturated 5 g, Trans 0 g), Cholesterol 45 mg, Sodium 230 mg, Carbohydrate 34 g (Fibre 2 g, Sugars 14 g), Protein 6 g.