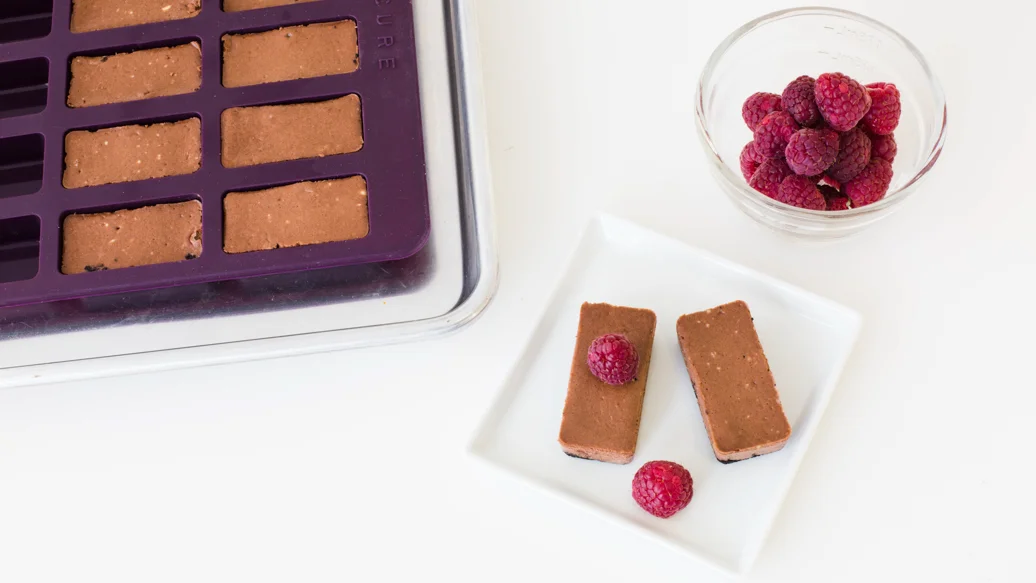 40 min
60 petites
$0.25/serving
Mini velvety chocolate cheesecake bites make the perfect finish to any dinner—and they freeze very well.
Ingredients
2 pkg (8 oz/250 g) cream cheese
1 pkg Chocolate Velvet Cheesecake Mix
4 eggs
1 cup vanilla yogurt
1 1⁄3 cup chocolate wafer crumbs
2 tbsp butter, melted
Preparation
Preheat oven to 325° F.
Prepare filling by blending cream cheese with cheesecake mix until smooth. Beat in eggs, one at a time. Add vanilla yogurt and beat until smooth. Set aside.
Prepare crust by combining chocolate wafer crumbs with melted butter. Place 1 tsp of crust mixture into each Perfect Petites section and press lightly. Using a piping bag or a resealable bag with the corner cut off, top with cheesecake filling.
Bake for 20–25 minutes. Cool completely before flipping Perfect Petites mold onto a Sheet Pan and twisting to pop out cheesecake bars.
Repeat steps 4 through 6 for a second batch.
Serve with fresh fruit, dust with cocoa, top with whipped cream, or drizzle with chocolate sauce.
Nutritional Information
Per serving (1 bar): Calories 60, Fat 4 g (Saturated 2 g, Trans 0.1 g), Cholesterol 25 mg, Sodium 55 mg, Carbohydrate 6 g (Fibre 0 g, Sugars 5 g), Protein 1 g.