Chocolate Truffle Sheet Pan Pancakes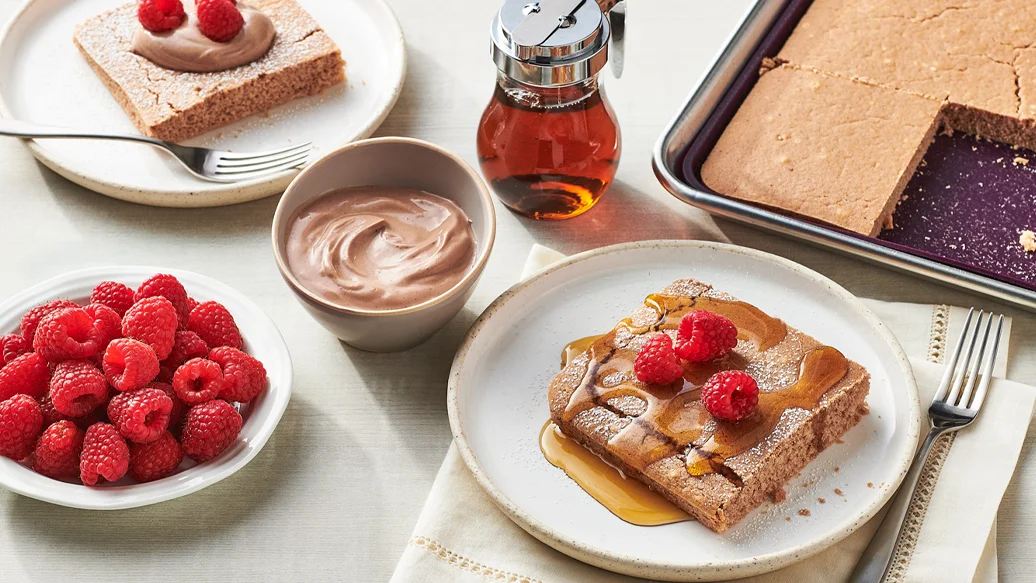 30 min
12 servings
$1.59/serving
These are ideal for a hands-off brunch where everyone gets a pancake hot off the pan without flipping a single cake! Prep ahead and bake cakes, then cool, portion, and wrap individually. Freeze up to three months; pop frozen into a toaster oven to reheat.  
Perfectly Balance Your Plate
Serve with 1 cup fruit such as berries and 1⁄2 cup 2% plain Greek yogurt (for extra flavour, add Chocolate Truffle Sweet Dip Mix).
Ingredients
1 pkg Easy Peasy Bagel, Pancake & Waffle Mix
2 - 3 tsp Chocolate Truffle Sweet Dip Mix
3 eggs
2 1⁄4 cups milk, your choice
2 tbsp vegetable oil
Toppings (optional): maple syrup, berries, icing sugar 
Preparation
Preheat oven to 400° F.  
Line Sheet Pan with Sheet Pan Liner.  
In a large bowl, whisk mix, sweet dip mix, eggs, milk, and oil.  
Pour batter into pan. Using 3-in-1 Spatula, spread evenly into corners. Gently tap the pan on the kitchen counter a few times to help even out the batter and release air bubbles.  
Bake until centre springs back when pressed with a finger and a toothpick inserted in the centre comes out clean, 15 min. Let cool in pan 10 min.  
Using a Flipper, cut into 12 squares and serve! 
Nutritional Information
Per serving (1 pancake): Calories 210, Fat 6 g (Saturated 1.5 g, Trans 0 g), Cholesterol 65 mg, Sodium 350 mg, Carbohydrate 33 g (Fibre 2 g, Sugars 5 g), Protein 6 g.
Tips
Add sliced bananas, blueberries, or chocolate chips to the batter before baking.