Chocolate Bliss Brownies with Chocolate Fudge Sauce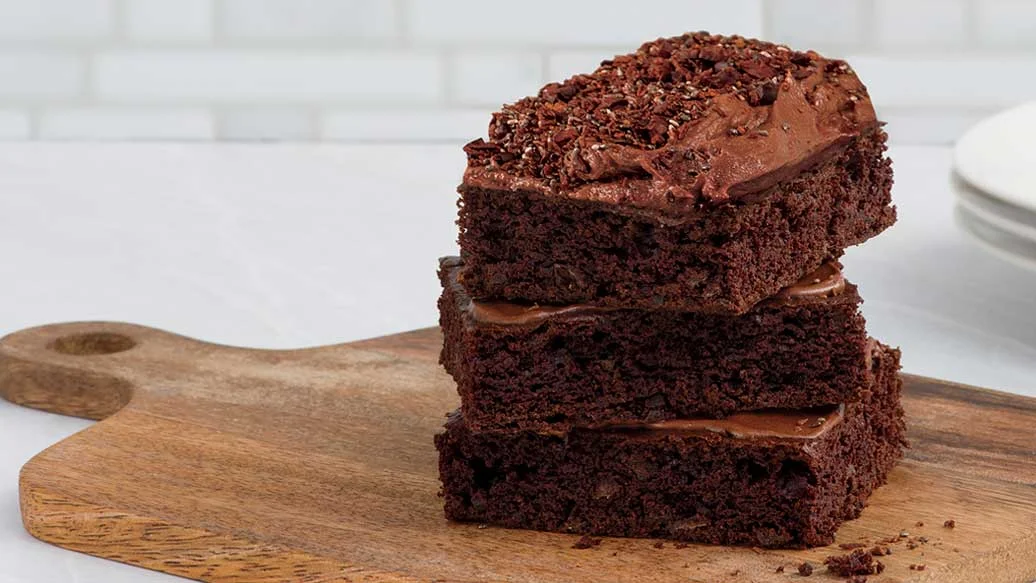 30 min
12 servings
$1.00/serving
Ingredients
2 eggs
1⁄2 cup butter, melted unsalted
1 pkg Chocolate Fudge Sauce Mix
1 pkg Chocolate Bliss Brownie Mix
1 cup whipping cream
Cocoa Crunch Whole Food Topper, to garnish
Preparation
Preheat oven to 350° F (160° C).
Chocolate Fudge Icing: 
In a Multipurpose Pot - 8 cup, whisk sauce mix with whipping cream. Bring to a boil.
Using a hand mixer, beat sauce to desired thickness.
Chocolate Bliss Brownies:
Lightly oil a Round Cake Pan.
In a large bowl, whisk eggs with melted butter. Stir in brownie mix then spread batter into pan.
Bake for 15–20 min. Cool in pan before icing.
Spread chilled icing and top with whole food sprinkles, cut and enjoy
Nutritional Information
Per serving: Calories 280, Fat 18 g (Saturated 10 g, Trans 0.2 g), Cholesterol 90 mg, Sodium 180 mg, Carbohydrate 29 g (Fibre 3 g, Sugars 22 g), Protein 5 g.
Tips
To make mini Yule logs, simply bake recipe in Perfect Petites mold, ice with Chocolate Fudge Sauce, and decorate festively!