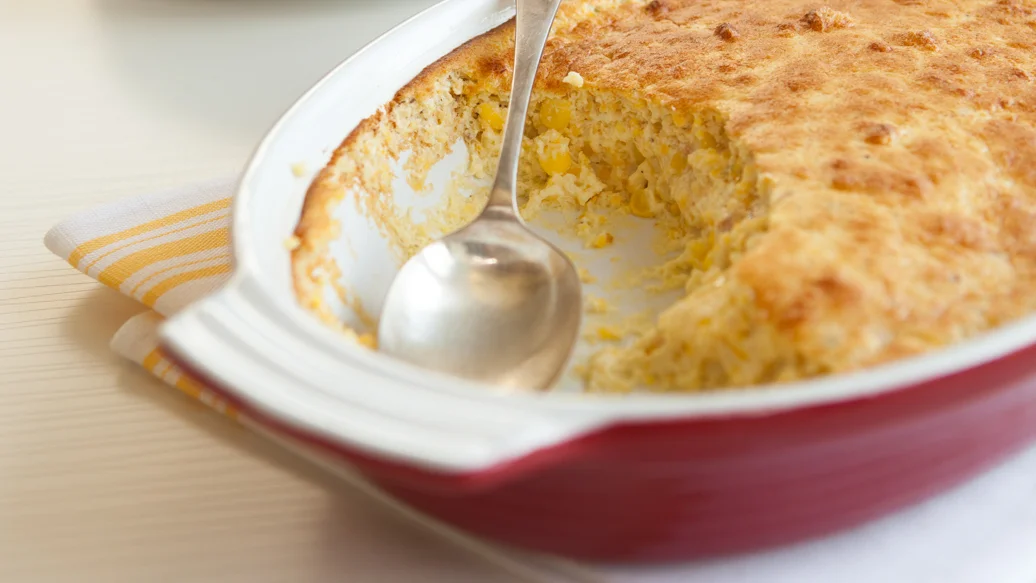 45 min
8 - 10 servings
$0.55/serving
Light, fluffy, and oh-so-good straight from the oven!
Ingredients
2 cups milk
1⁄3 cup yellow cornmeal
2 cups fresh or frozen corn niblets
1 tbsp butter
Sea Salt, to taste
4 large eggs, separated
Preparation
Preheat oven to 425° F (220° C).
Combine first 6 ingredients in Multipurpose Pot - 8 cup and bring to a boil over high heat. Reduce heat and simmer for 5 minutes, stirring constantly, until thick.
Remove from heat and stir in egg yolks, one at a time, mixing well between additions.
Using an electric mixer, beat egg whites (add a pinch of Sea Salt) until soft peaks form when beaters are lifted.
Stir one quarter of beaten whites into cornmeal mixture, then gently fold in remaining whites until no streaks remain. Turn into a small buttered casserole dish or deep dish pie plate.
Bake for 15 - 20 minutes, until puffy and golden. Serve immediately.
Nutritional Information
Per serving: Calories 110, Fat 4.5 g (Saturated 2 g, Trans 0 g), Cholesterol 90 mg, Sodium 95 mg, Carbohydrate 11 g (Fibre 1 g, Sugars 1 g), Protein 6 g.