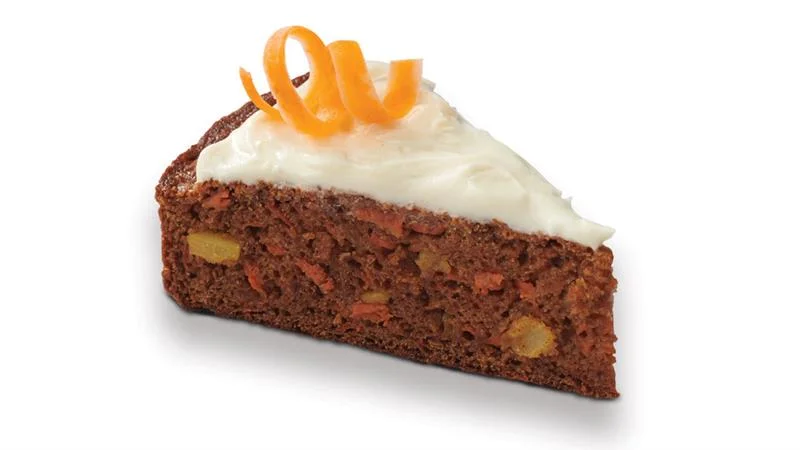 70 min (includes 30 min chill time)
12 servings
$0.79/serving
Ingredients
Cake:
2 medium-sized carrots
2 eggs
1⁄3 cup oil
1⁄2 cup crushed pineapple
1 pkg Carrot Cake Mix
Icing:
1⁄2 pkg (8oz/250 g) brick light cream cheese, softened
1 1⁄2 tbsp unsalted butter, softened
1⁄8 tsp vanilla extract
1⁄2 cup icing sugar
Preparation
Coarsely grate carrots; measure out 2 cups and set aside.
Lightly oil 8" Round Cake Pan.
In a large bowl, whisk eggs with oil and pineapple. Stir in mix and 2 cups grated carrot. Scrape batter into pan; smooth top.
Microwave cake on high for 8 min. Rest in pan 5 min; invert cakes onto Cooling Racks. Or, bake cake in preheated 350° F oven for 35–40 min. Cool 10 min before unmolding onto rack.
Let cake cool completely while preparing icing. Refrigerate to speed up the process.
In a bowl, using an electric mixer or wooden spoon, beat cream cheese with butter until smooth. Beat in spice and vanilla. Beat in icing sugar, a spoonful at a time, until smooth. If making ahead, cover and refrigerate up to 5 days.
Place cooled cake on a plate. Spread icing overtop.
Nutritional Information
Per serving (1 slice): Calories 200, Fat 10 g (Saturated 3 g, Trans 0 g), Cholesterol 40 mg, Sodium 230 mg, Carbohydrate 23 g (Fibre 1 g, Sugars 16 g), Protein 4 g.
Tips
Make cupcakes using the Muffin Maker. Microwave, one pan at a time, on high for 3 min. Rest in pan for 5 min; invert onto a wire rack. Or bake both pans in preheated 375° F oven for 15-18 min. Cool in pans for 10 min, then unmold.
Leftover grated carrot? Add to smoothies, sandwiches, soups or salads.
Replace crushed pineapple with unsweetened apple sauce.
Cooking time may vary based on microwave wattage.