Berrilicious Millet Muffins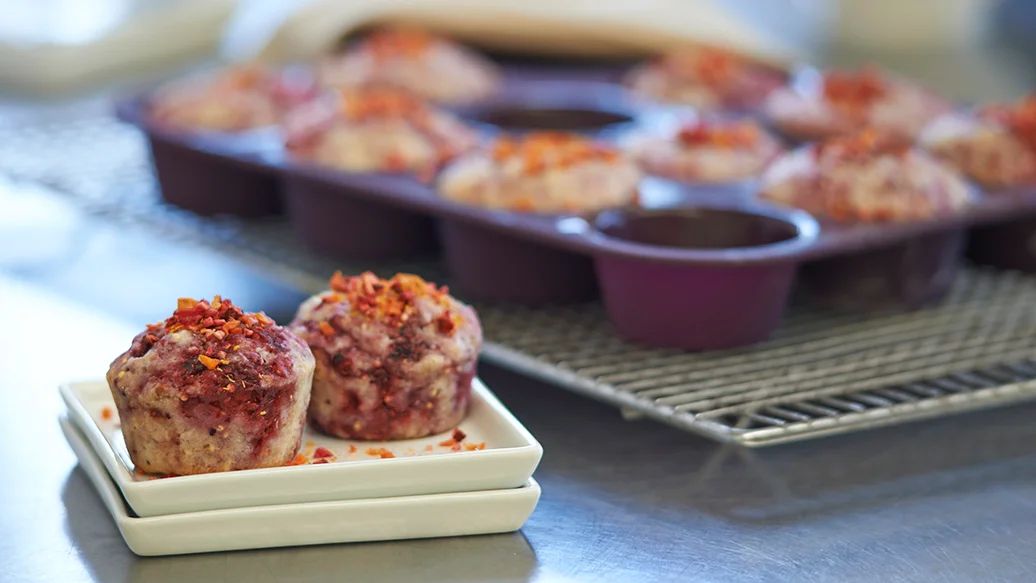 20 - 25 min
12 muffins
$0.80/serving
Gluten-free millet is a tiny, round ancient grain with a mildly sweet and nutty flavour; it's available in white, gray, yellow, and red varieties. Add it to muffin, pancake, waffle, and cookie batters for a flavourful crunch.
Ingredients
1⁄2 cup sugar
1⁄3 cup millet
2 tbsp Summer Berry Sweet Dip Mix
2 tsp baking powder
2⁄3 cup unsalted butter or coconut oil, melted
1⁄2 cup milk, soy milk, or coconut milk
2 eggs, lightly beaten
1 tsp vanilla extract
1 cup frozen berries
2 tbsp Summer Berry Sweet Dip Mix
Preparation
Preheat oven to 375° F (190° C).
In a large bowl, combine first five ingredients.
In a separate bowl, combine butter with milk, eggs, and vanilla. Stir in frozen berries.
Pour over dry ingredients. Fold together until combined. Don't overmix.
Place a lightly oiled Muffin Maker on a Sheet Pan; fill each cup with 1⁄4 cup batter.
Sprinkle with Summer Berry Sweet Dip Mix.  Bake for 15–20 minutes, or until an inserted toothpick comes out clean.
Nutritional Information
Per serving: Calories 250, Fat 12 g (Saturated 7 g, Trans 0.3 g), Cholesterol 70 mg, Sodium 70 mg, Carbohydrate 32 g (Fibre 2 g, Sugars 10 g), Protein 5 g.