Beet & Goat Cheese Quinoa Salad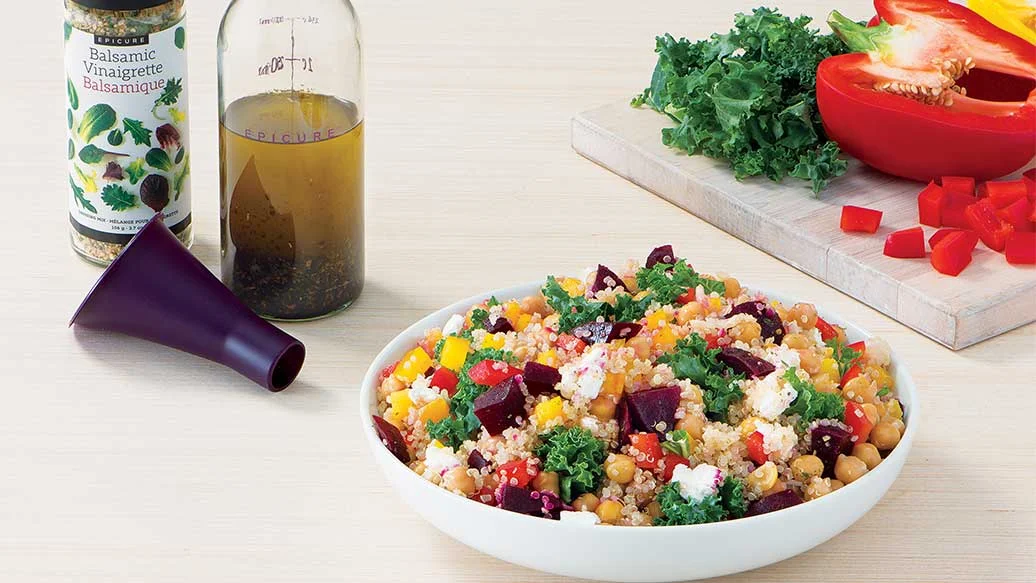 40 min
8 servings
$0.86/serving
Known as a "super seed," quinoa contains about 50% more protein than other common grains: 8 g per 1 cup. It's gluten free, high in calcium and iron, and a good source of vitamin B.
Perfectly Balance Your Plate
Serve with 1 serving of lean protein.
Ingredients
1 cup quinoa, rinsed and drained
2 cups water
1 can (19 oz/540 ml) chickpeas, drained and rinsed
1 can (14 oz/396 ml) beets, drained and chopped
1 bell pepper, seeded and diced
1⁄2 cup crumbled goat cheese
Sea Salt , to taste
Black Pepper, to taste
Preparation
Combine quinoa and water in a Multipurpose Pot over medium-high heat. Bring to a boil, then reduce heat and simmer, stirring occasionally, until water is absorbed, about 15 min. Remove from heat and let stand 5 min.
Turn into a bowl and stir in chickpeas and dressing. Spread out on a Sheet Pan lined with a Sheet Pan Liner to cool, then turn back into bowl. Stir in beets, greens, bell pepper, and cheese. Season to taste.
Best served at room temperature. If making ahead, cover and refrigerate overnight.
Nutritional Information
Per serving: Calories 230, Fat 6 g (Saturated 1.5 g, Trans 0 g), Cholesterol 0 mg, Sodium 240 mg, Carbohydrate 37 g (Fibre 5 g, Sugars 7 g), Protein 8 g.
Tips
This recipe freezes well. Freeze in individual portions with 4 oz cooked, cubed chicken or 1 cup black beans/lentils to have an emergency meal ready to reheat and eat.