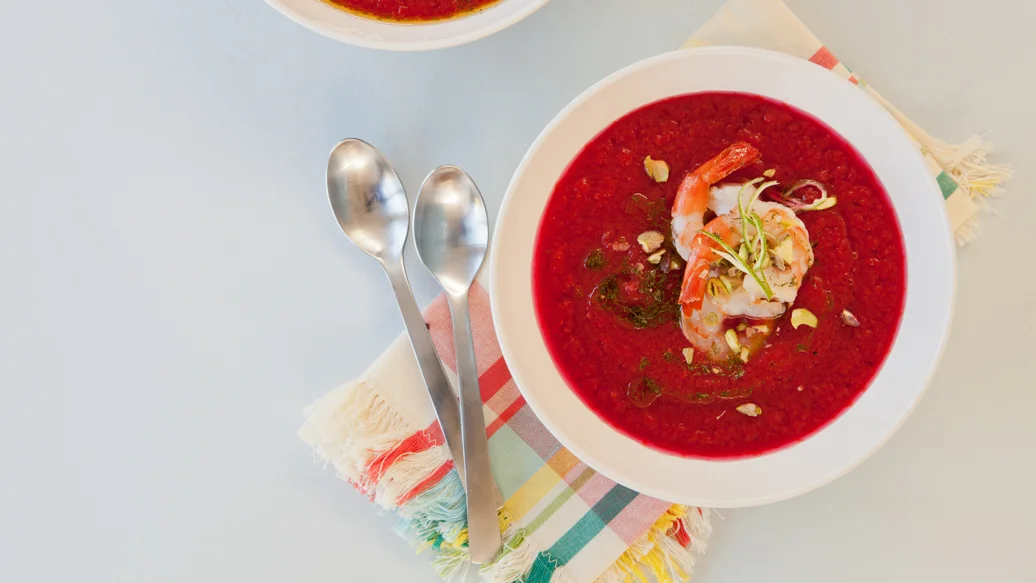 8 min
6 servings
$1.10/serving
Ingredients
4 plum tomatoes, chopped
2 cooked red beets, chopped
1 cucumber, peeled, seeded, and chopped
1 red pepper, chopped (roast for greater flavour)
1 garlic clove, minced
1 lime
2 tbsp Lemon Dilly Dip Mix
1 tbsp Vegetable Broth Mix
1⁄4 cup olive oil
1⁄4 cup chopped pistachios
Preparation
Place tomatoes, beets, cucumber, red pepper, and garlic in a blender. Pulse to blend, then pour into serving bowls.
Using a Y-peeler, peel a few strips of skin from lime. Julienne into skinny strips. Squeeze juice into a small bowl and stir in Dip Mix, Vegetable Broth Mix, olive oil, Salt and Pepper. Refrigerate until well chilled.
Ladle soup into bowls and drizzle each with lime mixture. Garnish with lime strips and pistachios.
Garnish with prepared Quickled Shrimp, lime strips and pistachios.
Nutritional Information
Per serving: Calories 140, Fat 12 g (Saturated 1.5 g, Trans 0 g), Cholesterol 0 mg, Sodium 15 mg, Carbohydrate 8 g (Fibre 2 g, Sugars 4 g), Protein 2 g.
Tips
Turn this into a meal or elegant first course: garnish with cooked shrimp – perfect for spot prawn season if you live in BC.