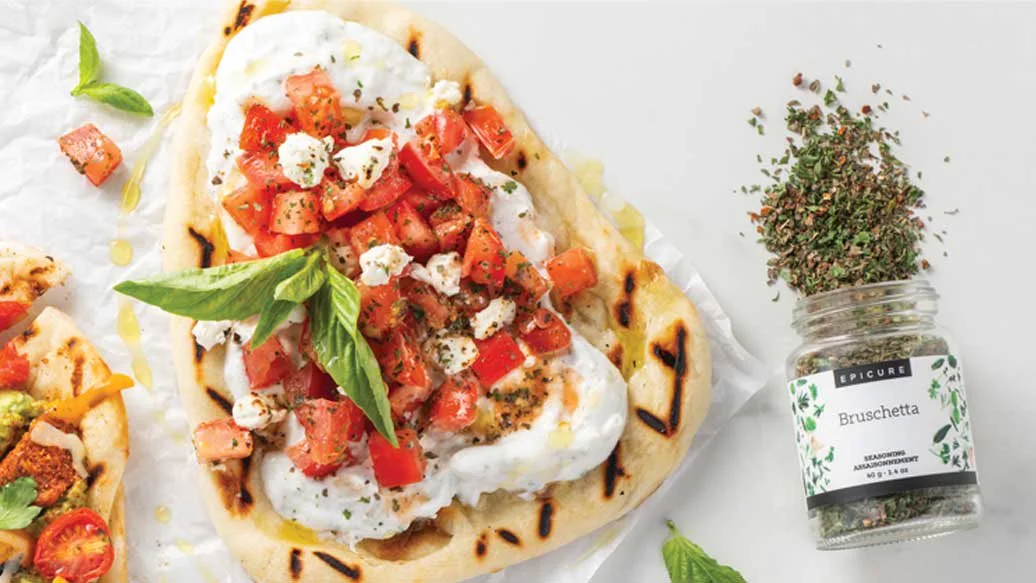 12 min
8 servings
$1.61/serving
Ingredients
1 cup 2% plain Greek yogurt
2 large tomatoes
1 tbsp olive oil + extra for brushing
4 naan breads
1 cup crumbled goat cheese
Toppings (optional): Fresh basil leaves, olive oil
Preparation
Preheat grill to medium.
Meanwhile, in a bowl, stir together yogurt and dip mix.
Dice tomatoes, then place in a separate bowl. Stir in seasoning, 1 tbsp oil, salt and pepper.
Lightly brush both sides of naan breads with oil. Place yogurt, tomatoes, oiled bread and cheese on a Sheet Pan and head to the grill!
Place bread on grill. Barbecue until one side is lightly charred, 2 min. Remove from grill; spread grilled sides with yogurt mixture, then top with tomatoes and cheese.
Place back on grill; close lid and barbecue until cheese melts, 1–2 min.
Nutritional Information
Per serving (1/2 flatbread): Calories 190, Fat 8 g (Saturated 4 g, Trans 0 g), Cholesterol 10 mg, Sodium 250 mg, Carbohydrate 21 g (Fibre 3 g, Sugars 3 g), Protein 10 g.
Tips
Infuse olive oil with your favourite Epicure Seasoning or Dip Mix. Blend 1 cup oil with 3 tbsp seasoning or mix. Let stand overnight.