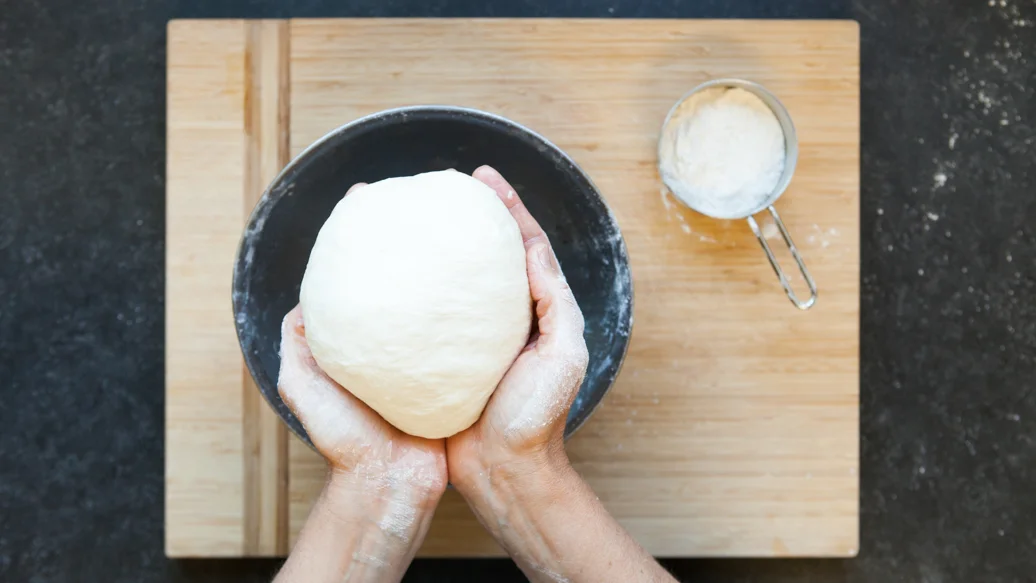 55 min
16 servings
$0.14/serving
Ingredients
1 pkg dry yeast
1 cup warm water
1 tsp sugar
1⁄2 tsp Sea Salt, ground
2 1⁄2 cups all-purpose flour
2 tbsp olive oil
Preparation
Preheated oven to 350° F (175° C).
Dissolve yeast in water for approximately 5 minutes. Whisk together sugar, Sea Salt, and flour in a separate bowl.
Make a well in the centre of the dry ingredients. Add yeast water and mix together to form a smooth dough. Cover with a clean cloth and let rest for at least 10 minutes.
Brush Sheet Pan or Crisper with oil, reserving a small amount to rub on hands for handling dough. To shape dough, roll or press out into pan.
Cover with your choice of sauce and toppings, and bake for approximately 30 minutes.
Nutritional Information
Per serving (Dough only): Calories 90, Fat 2 g (Saturated 0.3 g, Trans 0 g), Cholesterol 0 mg, Sodium 70 mg, Carbohydrate 16 g (Fibre 1 g, Sugars 0 g), Protein 2 g.
Tips
Add 1-2 tbsp of any Epicure Dip Mix to your dough for an amazing herbed crust!