Bang Bang-Style Tofu Power Bowl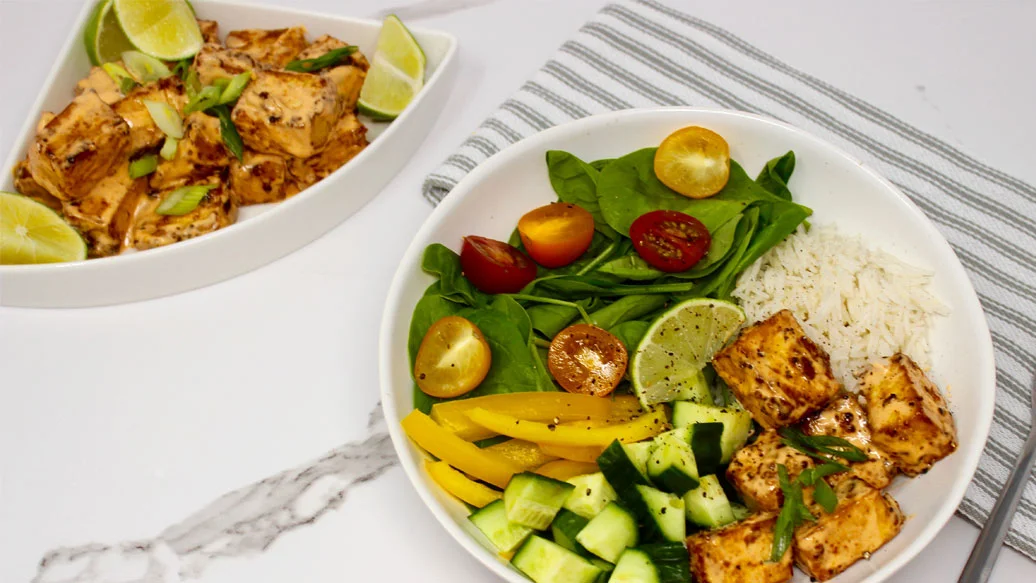 20–25 min
4 servings
$4.39/serving
Ingredients
2 pkgs (350 g each) extra firm tofu
1 tbsp low-sodium soy sauce
1 tbsp extra virgin olive oil
1 tbsp corn starch
Sauce
1⁄4 cup mayonnaise
2-3 tbsp sriracha, to taste
1 tbsp rice wine vinegar
3 cups rice, cooked
8 cups greens
1 cucumber, chopped
1 bell pepper, sliced
1 cup cherry tomatoes, halved
4 green onions, sliced on the diagonal
Preparation
Preheat oven to 400° F. Line a Sheet Pan with a Sheet Pan Liner and place a Cooling Rack on top of the mat. Set aside.
Remove tofu from the packages and drain. Cover with tea towel and press out any water. Cut tofu into bite-size pieces and place in large bowl.
Top tofu with Asian Stir Fry Seasoning, soy sauce, olive oil, and corn starch; toss to combine. Place tofu on cooling rack and bake in oven for 15–20 min, turning halfway through.
While the tofu is cooking, combine mayonnaise, sriracha, and rice wine vinegar in a small bowl. Stir to combine and set aside.
Remove tofu from oven and add to sauce; toss to combine.
Assemble each of 4 bowls with rice topped with tofu; arrange veggies on top of tofu. Top with green onion, if desired. Enjoy.
Nutritional Information
Per serving: Calories 530, Fat 23 g (Saturated 3.5 g, Trans 0 g), Cholesterol 5 mg, Sodium 560 mg, Carbohydrate 63 g (Fibre 6 g, Sugars 6 g), Protein 25 g.
Tips
Freeze tofu ahead of time, then defrost and squeeze out liquid. This process gives tofu a chewier and more desirable texture.