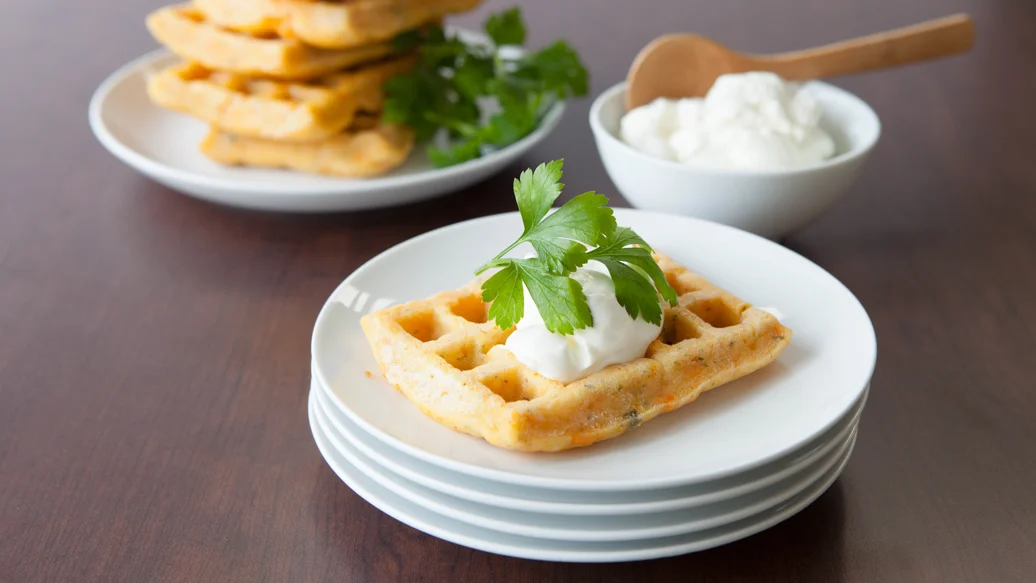 30 min
12 waffles
$0.40/serving
Much like potato latkes, these savoury potato waffles are delicious with a sprinkle of grated cheddar or a dollop of apple sauce added to the sour cream.
Ingredients
Sea Salt, to taste
Black Pepper, to taste
1 cup finely mashed cooked potatoes or yams, cooled
1 - 2 tbsp vegetable oil
light sour cream, to taste
Preparation
Preheat oven to 425° F (220° C).
In a mixing bowl, combine first 5 ingredients until well-blended.
Place Waffle Mold on Sheet Pan. Using a basting brush, lightly brush Waffle Mold with oil.
Pour approximately 1⁄4 cup of batter into each Waffle Mold until it fills all corners.
Bake until golden, approximately 13–15 minutes. Let cool for 2 minutes, or until Waffle Mold is cool to the touch. Gently remove waffles from Waffle Mold.
Serve hot with sour cream, if you like.
Nutritional Information
Per serving (1 waffle): Calories 190, Fat 7 g (Saturated 1 g, Trans 0 g), Cholesterol 40 mg, Sodium 270 mg, Carbohydrate 25 g (Fibre 1 g, Sugars 4 g), Protein 5 g.