3 Onion Egg Bites Breakfast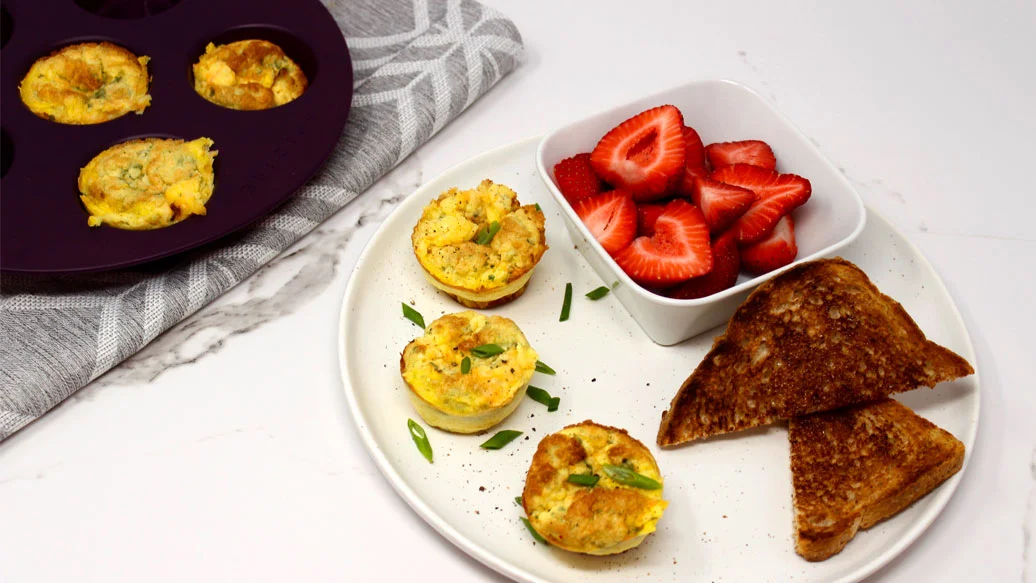 30 min
4 servings (3 egg bites)
$4.05/serving
Making this complete breakfast will cost you less than buying just 2 egg bites.
Ingredients
9 eggs
1⁄2 cup 2% cottage cheese
3⁄4 cup shredded cheddar or Swiss cheese
1 tsp Pepper
1⁄4 tsp Sea Salt
Serve With
4 slices of bread
4 tsp butter
4 cups berries
Preparation
Preheat the oven to 300° F and place two silicone muffin trays on a baking sheet. Add water to the baking sheet to help create humidity when cooking.  
In a food processor or blender add the eggs, cottage cheese, shredded cheese, and seasoning to a food processor or blender. Blend until smooth. Do not over blend.
Pour the egg mixture into the muffin cups and bake for 25 min until eggs are set.
Once cooked, set aside and make toast. Plate 3 egg bites,1 slice of buttered toast and 1 cup of berries on each plate. Enjoy!
Nutritional Information
Per serving: Calories 450, Fat 23 g (Saturated 10 g, Trans 0.2 g), Cholesterol 450 mg, Sodium 760 mg, Carbohydrate 36 g (Fibre 5 g, Sugars 10 g), Protein 28 g.